Reports are coming in that Microsoft has begun rolling out the Windows Phone "Tango" update, or officially it is Windows Phone 7.5 Commercial Release 3 (CR3). WPCentral reports that Aviraj Ajgekar, Technology Evangelist at Microsoft, has received the update on his HTC Mozart (presumably one of the open-market unbranded ones). Below is a screenshot: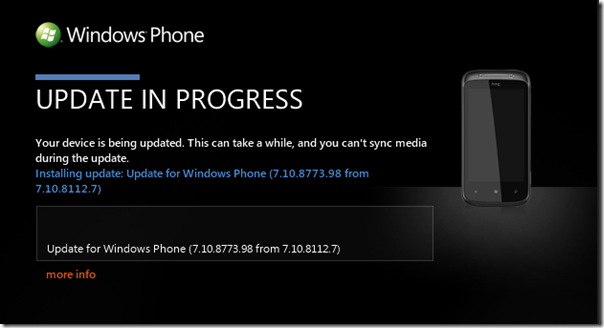 According to Aviraj, the update comes in three stages (his phone was on the latest build 7.10.8107 prior to the update). The update will first upgrade the phone to 7.10.8112.7, and then subsequently updating the phone to 7.10.8773.98, and then finally to 7.10.8779.8, or the standard Windows Phone "Tango" build.
There is no words on exactly when, if at all,manufacturers and carriers are expected to push this update out to existing Windows Phone devices, however they are reportedly to be pushing them out in June. In related news, the Nokia Lumia 610, already with the Windows Phone "Tango" build built-in, is on sale now in the Philippines, Hong Kong, and China.
If you have an open-market HTC Mozart, or any other Windows Phone, have you received the update? Let us know in the comments below!