Last week, we saw Bing roll out a new design featuring a clean new look, the removal of the left hand sidebar, and an "uncluttered, simple, and fast" archecture.  Now today, with the announcement of the New Bing, we see the reason for cleaning up all that area and creating all that white space: two new components of Bing, announced today, will enable search to "for the first time… to flow across social networks", according to Dr. Qi Lu, Microsoft's President of Online Services, who spoke at a press event and webcast today.
Here's a quick screenshot showing the new look, fully implemented: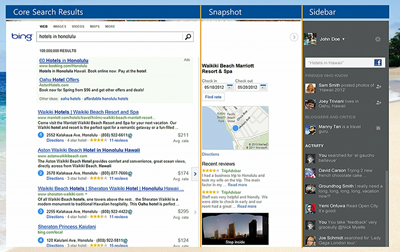 After Lu's initial remarks, Harry Shum talked about how Bing is focused on not only documents, but the over 300 million "entities" (such as a hotel, for example), and the trillions of relationships that socially connected users have with those entities.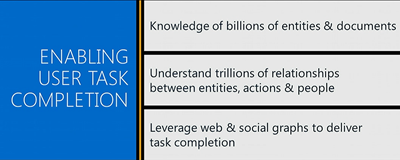 Bing is using social signals, coming from the likes of Facebook, Twitter, LinkedIn, and Quora, to not only improve the search rankings for documents, but to bring together the "entity graph of the physical world" and the "social graph of people", with Bing's architecture, to a unique approach to search.
With the core search results page being cleaned up, Bing has made room for two new features, Snapshot and Sidebar.  Snapshot brings forward much of the material that previously showed up in the left hand sidebar, but also new entity information, which may be a map of a number of search results (for a restaurant search, for example).
The Snapshot, which will be always on, can be minimized, and consists of two parts: your friends, and "influentials".  In the top "your friends" section, your Twitter and/or Facebook friends will show up, and your interaction with them will be based on your privacy settings in those accounts.  For example, if you create a message in Bing, adding some links from the search results, you can post it to your Facebook Wall, but that post will only be seen the same way that any post on your wall would, based on your privacy settings.  In addition, public messages from "influentials" (Paul Thurrott was called out in the webcast, for example) will be highlighted in a lower section.
Some notes from the demo:
The home page will feature a new, larger home page picture
The tiles across the lower part of the home page,which we've seen in tests, are coming back
Google + integration, when the influentials are on Google +
A new mobile experience will carry over the people sidebar, only stacked below the search results
A new swipe design for mobile is in the works, keeping the core search results separate from social results
Social networks coming include Skype, Quora, Foursquare, LinkedIn
Ads will continue on the core search experience, and Bing will be looking at ads in the Snapshot and Sidebar, with nothing to announce at present
Entity segments include tech, automotive, events
Whew, there's a lot to digest here!   To sign up to be invited into the new Bing experience, you can add your email to the list at www.bing.com/explore/new