It was only five days ago when Samsung announced the Samsung Focus 2 Windows Phone, and today in an unexpected move the South Korean phone manufacturer has announced another device – the Samsung Omnia M – for the lower-end market in Europe and other countries. Check out images of the phone below: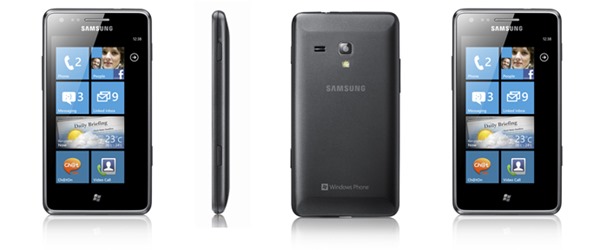 Based on Samsung's naming convention, "M" stands for "Magical", and is positioned as a high-performance handset at an economical price-point. Which means that the phone will have lower specifications but also lower prices compared to the Samsung Omnia W ("W" stands for "Wonder", which are high quality models which strikes a balance between style and performance). Interestingly, the phone does sport a larger screen than the Omnia W, with an 4-inch display. Other specifications include:
Screen: 4.0" Super AMOLED display
Processor: 1GHz
Storage: 4GB
RAM: 384 MB
Camera: 5 MP (Main) with flash / VGA (Front)
Battery: 1500 mAh
Dimensions: 121.6 x 64.1 x 10.5 mm
Weight: 119 g
The phone will also come packed with Samsung's exclusive apps, including Family Story, ChatON, and AllShare. Given the amount of available RAM on the device, we believe that the device will come pre-loaded with Windows Phone "Tango", which supports devices with memory as low as 256 MB. As such, we expect the device will have certain restrictions imposed.
According to Samsung's press release, the Samsung Omnia M will first be available in Europe and eventually rolled out to other regions.