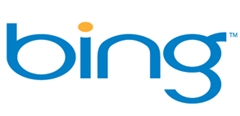 It's that time of the month again when the US search market share numbers come out, and while the three major pollsters (comScore, Compete, and Nielsen, who haven't released this month's rankings yet) don't always agree, the trends usually line up.  This time, at, Bing and Google are up slightly, and Yahoo! is down, furthering the evidence that while Bing is taking market share from Yahoo! (not good considering Bing powers Yahoo! search), it hasn't made much of a dent at all in Google's search dominance, despite spending billions on trying to catch the search leader.
Compete has Google increasing its share (for the first time since December, 2011), up to 65.9% in April 2012 from March's 65.5%.  It shows Bing at 18.3% of US market share (excluding Yahoo!'s numbers), numbers that have risen steadily since October of 2011.  Yahoo!, which Compete has tracked as gaining slightly over the past 3 months, dropped 0.7ppts from March to April, according to a Compete press release.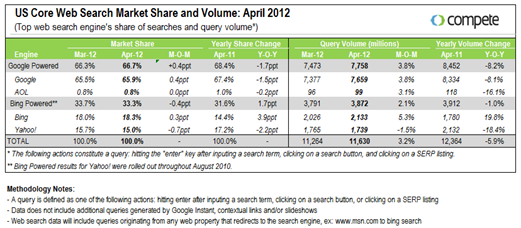 Meanwhile, comScore shows a similar gain for Bing and Google (with slightly different numbers, placing Google at 66.5% US search market share for April 2012, and Bing at 15.4%), and a similar decline for Yahoo!.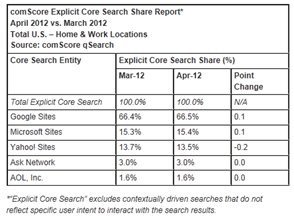 What may be a bit lost in focusing on the market share numbers is that total searches have not been gaining, and in fact according to comScore are down 7% over the past month, possibly an indication that users are spending more time searching (or just using apps to find what they need) on mobile devices and less on desktop browser searches.
So what does it all mean for Bing?  Certainly at 15% or 18% share, depending on who you believe, Bing has made strides from where it was when it changed names from Live Search, where it stood at some 9% share.  Unfortunately, most if not all of this gain in share has come at the expense of Yahoo!, while Google has remained stable (although perhaps not gaining as much as it may have without a serious competitor).
Bing's most recent update, making Bing even more social by furthering its connection with the likes of Facebook and Twitter, may help to popularize the #2 player in search, but what would really help Bing is to increase its position as the search engine for Facebook, in addition to Facebook as the social element of Bing.  While Bing and Facebook continue to work closely together, we've heard nothing recently about either an increased Bing presence on Facebook, or a launch by Facebook of its own search engine, something that has been rumored in the past.
Should Facebook take on Bing as its search engine?  Will it?  Or will Bing's continued socializing via Facebook, Twitter, and others be enough to gain share on Google (who are trying to do the same thing with Google +)?