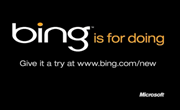 If you're in the US (or can fool your browser into thinking you are), the new Bing, with its double dose of sidebars, is available now, either by opting in to the banner that should be appearing on www.Bing.com, or by opting in at bing.com/new.  If you missed the news coming from last week's Search Summit, Bing has incorporated both a "Snapshot" sidebar and a social sidebar into its new look, after cleaning up the search results page by eliminating the left hand sidebar and minimizing a number of distracting elements on the page.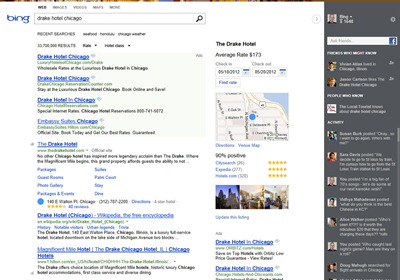 However, even if you've opted in, you'll only get the social sidebar (and that only after logging in to Facebook on Bing.com and/or connecting social services such as Twitter to your Windows Live ID), as the Snapshot feature is not yet live.  It is currently being tested on a small subset of users, according to a Microsoft spokesperson (so if you're seeing it, consider yourself lucky!).  It should be available soon, however.  The press release announced that the new Bing will be "rolling out over the coming weeks and broadly available in the U.S. in early June", so it shouldn't be long before we see Snapshot results, although they won't appear for every search:
Initially, snapshot will be displayed for searches where Bing can determine a clear customer intent focused on accomplishing a specific task including restaurants, hotels, businesses and movies. Over time, the feature will be expanded to a greater number of places, things and people. "The technology we built on the back-end can scale incredibly well so we're particularly pleased," says Connell.
In addition, Microsoft is making full use of its new tagline for Bing, "Bing is for doing".  The new slogan, revealed back in January, is all over the new marketing materials for Bing, including a new video just posted today that shows scenes from the Search Summit and ends with Qi Lu saying that Bing can enable users to "Do More, Know More, and Be More", and we're sure we'll be hearing that line more, too.