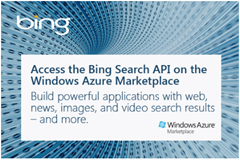 Last month we wrote about some changes to the Bing Search API, used by developers to bring Bing search functionality into their applications.  The set of APIs, which originally were free to use, are moving to the Azure Marketplace and a paid subscription model, initially set at "approximately $40 (USD) per month for up to 20,000 queries each month".
This didn't go over too well with a number of developers of hobbyist-type applications, including Long Zheng of istartedsomething.com and the developer of an app experiment called "Real Live Search".  Long posted his frustrations on his blog, asking:
For a company that has a reputation for embracing and supporting developers like no other, the changes Bing has and will be rolling out for its developer program is pretty much a slap to the face. And for what? Just a few bucks here and there from hobbyist developers?
Well today, in a Bing Search blog post, Microsoft has announced that not only are the APIs officially available via the Azure Marketplace, they've changed their pricing strategy, offering a free tier:
For up to 5,000 queries per month, developers can access the API for free on the Windows Azure Marketplace. At this level, the large majority of our existing developers – including non-profits, educational institutions, and smaller scale applications– can continue using the service for free.
In addition, for a limited time, all Bing Search API subscriptions for any tier are available for free, to help in the transition process".