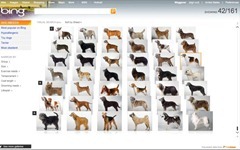 One of our readers (thanks Quikboy!) pointed out to us yesterday that a one-time prominent beta offering on Bing, Visual Search, is no longer available.  Visual Search was first announced at the TechCrunch 50 conference in September of 2009, and described by TechCrunch writer Erick Shoenfield at the time:
For instance, if you type in "dog breeds," it organizes them for you in a grid of images that you can scroll through using a slider on the right. When you hover over a particular image, it enters the name of that dog breed in the search box. And you can re-order the image results by size, breed, exercise needs, and Bing popularity.
Then in December of 2010, we wrote about some improvements to Visual Search, moving from Silverlight to HTML5, and promoting 111 different Visual Searches, including all 4426 Windows Phone 7 apps at the time (Windows Phone apps just passed the 90,000 mark, and are expected to reach 100k apps by early June – my how time flies!).  At that time, the Bing Visual Search Featured Galleries included everything from Bing Home Page Images to "Oprah's past favorite things.  But no more.   www.bing.com/visualsearch no longer resolves, nor do any of the links to individual Visual Searches we've highlighted in the past (nor, surprisingly, does a link to a Visual Search announcement on the Bing Search blog, which should be archived, in our opinion).
To be honest, we're not quite sure when Visual Search was turned off, apparently it has been being "decommissioned" for quite some time, according to a Microsoft spokesperson we reached out to:
Last fall, we began the process of removing Visual Search galleries on Bing. Like all of our betas, Visual Search was part of an on-going effort to better understand how we can offer the best search experience possible. We learned a lot from the Visual Search beta and we'll apply that knowledge to Bing as part of our continuing effort to help users 'do' more, while keeping our offerings visually appealing. This does not affect nor should be confused with Image Search, which will remain a key feature for us.
So at least one of the features that Bing at one time had rolled out to great fanfare is gone, or at least quietly integrated into other parts of the service.  Have you noticed any other Bing services gone missing?