This past week had been an exciting week for all of us, starting from the release of Windows 8 Release Preview, to the unveiling of multitudes of new Windows 8 and Windows RT-based tablets, ultrabooks and convertibles at Computex, and of course we had E3 where we saw Xbox SmartGlass, Internet Explorer for Xbox, a rebranding of Zune to Xbox Music, and much more. Now that we've seen Microsoft's upcoming strategies for its PCs, tablets, as well as the TV in the living room, the only question that remains – what is the company's strategy for smartphones, and specifically Windows Phone 8?
Windows Phone Summit to be held on June 20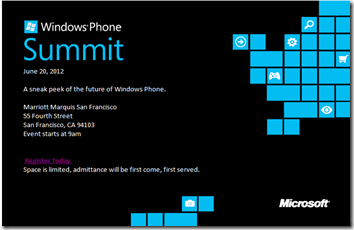 It seems like we won't have to wait long. In just two weeks' time, Microsoft is set to hold its Windows Phone Summit. Originally called the "developer summit", and to be held over two days, the most recent invitation (see image on the right, courtesy of Mary Jo Foley) shows that Microsoft has decided to rename the event to simply "Windows Phone Summit", and shortened the event to just one day. Further, the invitation promises "a sneak peek of the future of Windows Phone", pretty much confirming that the company will be unveiling details about it's next mobile operating system – Windows Phone 8, codenamed "Apollo" – during the event. Whilst the event is by invitation only, the event will be live-streamed at http://aka.ms/wpsummit, so be sure to bookmark the link!
Qualcomm Snapdragon S4 certified for Windows Phone 8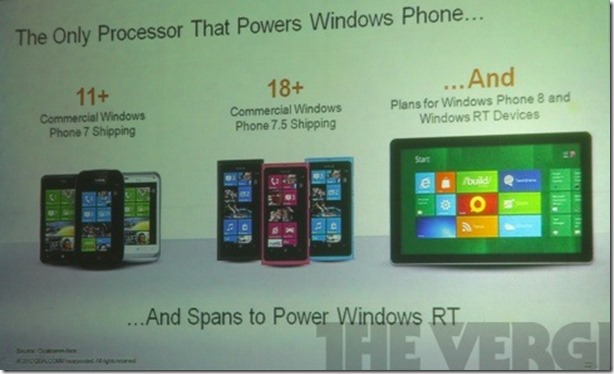 The second piece of news comes from Qualcomm, who during a briefing at Computex in Taipei confirmed (via The Verge) that its Snapdragon S4 chip has been certified for Windows Phone 8. Whilst this is not surprising given that Qualcomm had monopolized the Windows Phone 7 market, this is the first official confirmation that dual-core (or more) processors are coming to Windows Phone 8 devices. The Snapdragon S4 chip will also have LTE on-board, meaning you can expect a whole lot more LTE-capable Windows Phone devices.
Lenovo to release Windows Phone 8 device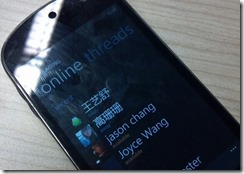 Besides the chipset, we also have confirmation of a new OEM coming on-board to Windows Phone 8. According to China Tech News (via WMPU), Liu Jun, Senior Vice President for Lenovo Group, confirmed that the company will be releasing a Windows Phone 8 device this autumn. We previously reported news that a company spokesperson had confirmed that Lenovo has a "clear release schedule" to release a Windows Phone device during second half of 2012, and that previously leaked images of a Lenovo Window Phone device was indeed the real deal (although we might never see this prototype device given that it still runs on Windows Phone 7.5).
Xbox Video marketplace coming to Windows Phone
Now moving to the software side, another piece of Windows Phone 8-related news came from a letter from Marc Whitten, Corporate Vice President of Xbox LIVE. With the announcement of Xbox Music, we know that the it will come to Windows Phone also, and most likely with Windows Phone 8 we'd expect a rebrand from Zune to Xbox Music. However, Whitten's letter also revealed something quite interesting, suggesting that Xbox Video might make its way to Windows Phone 8 too. Take a read of an excerpt below:
Xbox on Windows 8 and Windows Phone. Xbox is the premium entertainment experience for video, music, and games on your Xbox 360, on Windows 8 and on Windows Phone. And of course our LIVE service makes it even easier to share, discover, play and more with all of your content.

Xbox Music will bring you a world-class music library and great new ways to enjoy, share and discover new music across all of your Windows devices.
Xbox Games makes your experience with the console even better. You'll have access to your avatar, recent games and leaderboards, and connections to your friends, giving you anywhere access to things you love about Xbox on the console. You can even purchase Xbox 360 games from anywhere and have them ready for download the moment you turn on your console.
Xbox Video provides you access to the video marketplace, making it easy to browse and search for TV episodes and movies. You can see your videos in your personal collection and even cue the TV show or movie up on your Xbox 360.
Take particular note at the last bullet point, which indicates that you may be able to browse movies and TV episodes on the Xbox Video marketplace directly on your Windows Phone, and play them directly on the phone (or flick it to your Xbox 360 via the SmartGlass). Currently, Windows Phone 7 only allows you to browse the music marketplace on the phone, and to download video you'd have to connect up to the Zune PC software and sync it to your phone. Being able to browse the Xbox Video marketplace directly on the phone means that the need to connect your phone to the PC to download a movie is completely eliminated.
Windows Phone app compatibility code found in Windows 8

The final piece of news came from the guys at MyDigitalLife Forums (via WMPU), who managed to disassemble resources (mscorlib.dll to be exact) from Windows 8 Release Preview and found a piece of code related to Windows Phone 8. A compatibility switch called IsAppEarlierThanWindowsPhone8 was identified, which potentially suggests that Windows Phone apps may be able to run on Windows 8. We've previously heard a rumor that Windows Phone 8 "Apollo" SDK requires Windows 8 Release Preview or above, which suggests that there may be some sort of a close relationship between apps running on Windows 8 and Windows Phone 8 (besides the fact that both OS are rumored to be running on the same core).
As we get closer to June 20, we'd expect more and more news starting to come out relating to Windows Phone 8, and here at LiveSide we will be sure to bring you the latest news on the upcoming mobile OS from Microsoft. Stay tuned!