Following yesterday's leak of the first Windows Phone 8 screenshots, today a user on Chinese forum Ngacn.cc managed to leak several photos of an alleged Vertu device running Windows Phone 8. For those who doesn't know, Vertu was a wholly-owned subsidiary of Nokia specialising in luxury phones, so it's not surprising that the company had been developing devices running on Windows Phone as well. You can check out images of the prototype device below: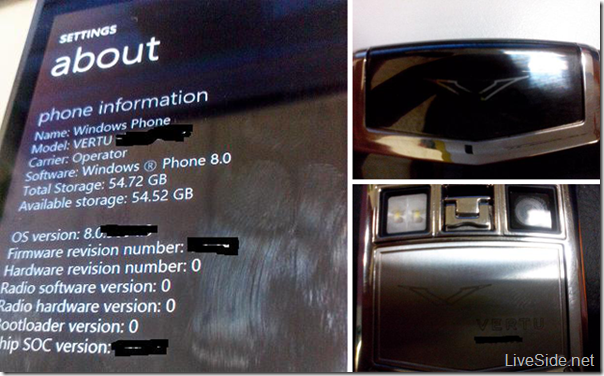 The screenshot above shows the the device is running on a build of Windows Phone 8, and was reported to come with 64GB of storage (52GB available). The website also posted two other photos showing several new features of Windows Phone 8, including built-in SkyDrive cloud storage, as well as a feature called "Data Sense" (we're not yet sure if this is a Nokia Data Counter app or an older version of the built-in "DataSmart" feature of Windows Phone 8):
However, even if you can manage to afford one of these Vertu devices, it's future may be quite uncertain given that it was only today that Nokia announced that it has sold Vertu off to private equity firm EQT VI.
With the unveiling of Windows Phone 8 only days away, it'll be interesting to see what else leaks ahead of the Windows Phone Summit to be held on June 20 in San Francisco.