Lots of speculation about what appears to be a leaked Xbox 720 slide deck that hit the web yesterday, apparently from August or September of 2010, laying out a roadmap for Xbox through 2015, and listing a number of new features that may (or may not) be coming to Xbox as soon as next year.
The document surfaced in a forum on NeoGAF, and was picked up by The Verge, among others.  There's quite a discussion on NeoGAF about the authenticity of the document, but although the PowerPoint deck does not carry the boilerplate "Microsoft Confidential" watermark, there are a number of indications that it may indeed be real, although dated.
In the document, which was hosted on Scribd but has been removed "at the request of Covington & Burling LLP", contains 56 PowerPoint pages of interesting although somewhat outdated information on the future of Xbox, including a set of specs for the new "Xbox 720", including either 6 or 8 ARM or x86 cores at 2ghz and 4gb of DDR4 RAM, along with 3 PowerPC cores to handle backwards compatibility with current Xbox game titles.  In the document, the Xbox 720 is billed as "The ONLY box you need for premium living room entertainment", and offers up a synopsis of what to expect for the consumer in the months and years to come: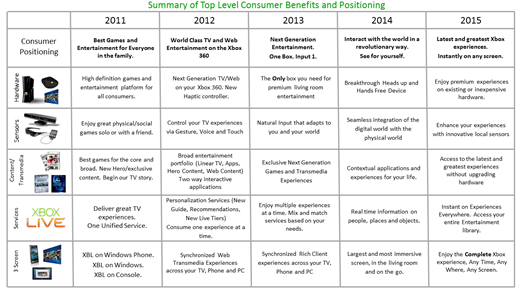 Much is made in the document about enhancing living room experiences, a new version of Kinect, and a research project dubbed "Fortaleza" (which one NeoGAF commenter notes is another Brazilian town near Natal, which was the original code name for Kinect).  That project, basically a Kinect driven set of augmented reality glasses, hasn't yet seen the light of day, and there's really no telling how central to Microsoft's future Xbox plans these glasses may be.
While much of the information contained in the document doesn't come as much of a surprise, as Microsoft is widely expected to release an Xbox vNext sometime next year, and continues to improve upon Kinect as well as living room experiences, it's still interesting to get a glimpse of how Microsoft sees (if indeed this document is real) the future of Xbox.