Caught up in the buzz about Microsoft's "mystery event" yesterday, which ended up being a pretty big deal after all with the unveiling of a new family of "Microsoft Surface" Windows 8 tablets, was a post on the Bing Facebook page, asking "Big things are coming to Bing tomorrow. You excited?!".  The plot thickened a bit when a number of folks in the UK noticed that the page was no longer accessible, leading to some speculation that this might have been a bit of a premature announcement, as tech pundits everywhere scrambled to try and figure out what Microsoft was announcing in LA.
Well, as it turns out, the "big things" coming to Bing are in the form of yet another contest, this one labeled "The Summer of Doing".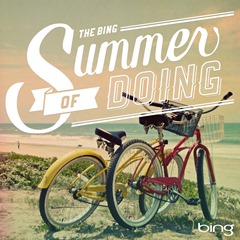 A blog post on the Bing Search blog spills the details:
As part of the Bing Summer of Doing, we are launching a new site today to inspire you to make the most of your summer. Every day we'll showcase a new daily activity to motivate you to learn more while giving you a chance to win cool prizes. Check out the site each day at bing.com/doing, or follow along at #summerofdoing.

Every week we will have a new theme including DIY-ing, eating, celebrating, giving back, wander-lusting, riding, jamming, and more. Each day of the week will present a new Bing search and new opportunity to be inspired to do something
Oh, and that disappearance of the announcement in the UK?  The contest is open only to "legal residents of the "50 US (+DC)".  You can check out the contest at www.bing.com/doing.