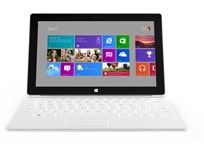 As usual, Monday's press event to unveil the Microsoft Surface family of tablets for Windows 8 provoked as many questions as it provided answers, but at least some details have started to filter out in the days following the event.  While word that Microsoft would announce some kind of self branded tablet had made the rounds in the days before the tech press begrudgingly made their way to Los Angeles, Microsoft pulled off near complete surprise when it announced the Microsoft Surface family of tablet devices, complete with a new VaporMg light and strong material for the casing, not one but two combination tablet covers and keyboards, an impressive set of specs, and an equally impressive emphasis on world-class industrial design.
But even as the event was unfolding, it became clear that there would be significant remaining questions about Surface, not the least of which were the matters of price and release dates.  What Microsoft said about those two pivotal details was typically vague, and frustratingly familiar:
Surface for Windows RT will release with the general availability of Windows 8, and the Windows 8 Pro model will be available about 90 days later. Both will be sold in the Microsoft Store locations in the U.S. and available through select online Microsoft Stores.

…

Suggested retail pricing will be announced closer to availability and is expected to be competitive with a comparable ARM tablet or Intel Ultrabook-class PC.
Since then, a number of tech publications have been trying to pin a price on the new tablets, everyone from the Huffington Post:
Most people take this to mean that Surface RT will cost about $500, or as much as the cheapest iPad, and that the Windows 8 Pro Surface will cost somewhere between $800 and $1,100. Each Surface, of course, gets less attractive as the price rises, and projecting excitement on a device without a price is a dangerous game. How enticing is the Surface RT, for example, at $600? $700? The lack of pricing is cause for some concern; then again, if Microsoft prices the Surface at $299, we can dance in the streets, can't we?
to Digitimes, who make a habit out of their thorough, but sometimes wrong, estimations of price via component price breakdowns:
The sources also estimated the end-market price of the Windows 8 Pro-based Surface tablet PC with Ivy Bridge processor to be at least above US$799, while the Windows RT-based model, featuring Nvidia's Tegra 3, will be priced above US$599.
We think the price points for Surface are pretty straightforward, and if Microsoft can hit a $399/$499 spot for the RT version (at 32gb and 64gb sizes), and $799/$999 for the 64gb and 128gb Windows 8 Pro models, they should be in the ballpark.  Any higher, and the iPad won't have much to worry about.  Of course if the prices are any lower we will be dancing in the streets, although one Microsoft executive told Mary Branscombe, who was at the event, not to expect Kindle Fire type prices.
ComputerWorld did a similar breakdown focusing on battery life, and concluded that the Surface tablets may not match the iPad's, but notes:
Hardware guru Kyle Wiens, the CEO of iFixit, a website that tears apart devices to create do-it-yourself repair guides, cautioned against reading too much into the estimates: There are simply too many unknowns that will determine Surface battery life.

"It's a whole system," said Wiens in an interview this week, talking about power-saving design
The next big question is who is going to make these devices, and the answer seems to be Pegatron, according to numerous sources.  In fact, the current rumor is that Pegatron may also be preparing a smartphone for Microsoft, too.
Steven Sinofsky made a big deal about Surface's dual WiFi antennas, and that led astute Microsoft watchers to note that the first Surfaces most likely won't have a mobile network connection.  We have to wonder if the added cost of a mobile connection, not to mention the mobile data contracts it would require, are even worth it, especially when price is going to be a major factor at launch.
Of course, we also have to wonder how Microsoft will tie in some of its other loose ends to a Surface launch, including SmartGlass integration, Xbox Music, and even Kinect for Windows.  Hopefully Microsoft won't keep us in the dark all summer, and we'll get more Surface news soon.