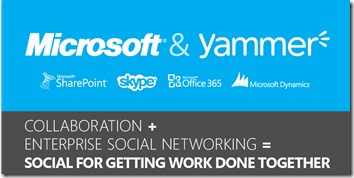 Rumors had been floating around since mid-June that Microsoft would be acquiring Yammer, the leading enterprise social network used in 85% of the top 500 Fortune companies. The rumor started off as an "overheard" in a nearby café near Yammer's headquarters, but later it was reported that the deal had been sealed. However, it seemed like both companies were holding off on the announcement given the big news events that was happening last week – including the "mysterious" event that saw the new Microsoft Surface tablets, as well as the Windows Phone Summit revealing Windows Phone 8.
Today Microsoft has officially announced the acquisition, in which the company will acquire Yammer Inc. for $1.2 billion in cash. Yammer will join the Microsoft Office Division, but the team will continue to report to Yammer's current CEO David Sacks. Below is an excerpt from the press release:
"The acquisition of Yammer underscores our commitment to deliver technology that businesses need and people love," said Steve Ballmer, CEO, Microsoft. "Yammer adds a best-in-class enterprise social networking service to Microsoft's growing portfolio of complementary cloud services."

Launched in 2008, Yammer now has more than 5 million corporate users, including employees at 85 percent of the Fortune 500. The service allows employees to join a secure, private social network for free and then makes it easy for companies to convert a grassroots movement into companywide strategic initiative.

Yammer will continue to develop its standalone service and maintain its commitment to simplicity, innovation and cross-platform experiences. Moving forward, Microsoft plans to accelerate Yammer's adoption alongside complementary offerings from Microsoft SharePoint, Office 365, Microsoft Dynamics and Skype.
Microsoft previously had an incubator project called OfficeTalk, which served the same purpose as Yammer. There were even talks that Microsoft would commercialize Office Talk, but it appears this idea has been shelved. Mary Jo Foley speculates that Microsoft bought Yammer because it "needed a cooler brand and wanted the cross-platform support", much like why the company bought Skype last year.
You can read the full press release by clicking here.