It's finally here. After Microsoft published details about its Windows Phone Commercial Refresh 3 update, codenamed "Tango" (build 8773), last week, the company has finally let the flood gates open and started to push the update to devices around the world.
Nokia has created a new webpage detailing the new features coming to its Lumia 710 and 800 phones, including internet sharing, flip to silence, and support for new apps such as Camera Extras, Contact Share, and Play To (DLNA). The official blog post indicates that the update will be available throughout June and July, however WPCentral reported that users across Europe, South America and North America are getting the update already.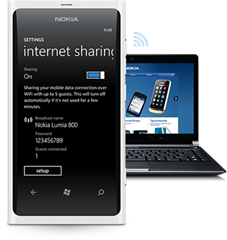 Australian carrier Telstra also posted on their website that the CR3 "Tango" update is currently in testing for their Nokia Lumia 800, HTC Mozart, HTC HD7, Samsung Omnia W, and LG Quantum / Optimus 7Q, and will be rolled out in July. Similarly, Vodafone Australia is reported to have rolled out the update for their Nokia Lumia 800 and HTC Trophy devices. Over in Italy, Plaffo.com also reported that the rollout has hit the Nokia Lumia 800, LG Optimus 7 (Vodafone), and HTC TITAN (Vodafone).
Whilst we expect that the "Tango" update will be hitting devices worldwide very soon, for those of you who couldn't wait, the guys over at XDA-Developers has already managed to obtain the direct download links for the CAB files (and you can follow WPCentral's instructions on how to do this). Of course, caution should be taken and be aware that by doing this you're running the risk of bricking or "Walshing" your phone, potentially impacting your ability to upgrade to Windows Phone 7.8 in the future.
Remember, the "Tango" update does not bring you the new Start screen, that coming in Windows Phone 7.8. For those who wants to know what's included in the update, check out our previous post.
Has your device received the new "Tango" update notification yet? Let us know in the comments below!