We've been checking on and off all day, and just now we were able to find, and install, OneNote "MX Preview", what might be officially the first "Windows 8 style app", available from the Windows Store. The app lists as being available in English (United States), Japanese (Japan), and Spanish (Spain), but we're not sure if it's available anywhere but right here, at least for now.
Search on OneNote in the Windows Store on your Windows 8 device, log in with your Microsoft account, and download the app, and you'll be connected with any OneNote notebooks you have stored in SkyDrive for that account, and find yourself in a very Metro-ish version of OneNote, complete with a surprise or two.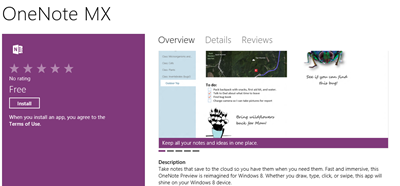 The installation page at the Windows Store lists some basics of OneNote:

Description

Take notes that save to the cloud so you have them when you need them. Fast and immersive, this OneNote Preview is reimagined for Windows 8. Whether you draw, type, click, or swipe, this app will shine on your Windows 8 device.
On the go? Use a browser or one of the many OneNote mobile apps to get to your notes when you need them.

Features

Make lists — Quickly write up to-do lists with check boxes.

Draw and write — Use your device's pen to draw in your notes as you would on paper.

Take pictures — Take photos with your device's camera to put in your notes.

Customize formatting — Organize your notes with tables, bullets, colors, and more.

Integrated search — OneNote works with the Windows 8 search charm, so you can always find the notes you're looking for.

Snap view — Need to reference another app or website while taking notes? OneNote can snap to the side of your screen so you can use both apps at the same time.
Other than that it's just about what you'd expect from a Metro style, errm,  Windows 8 style app, clean and simple, except….
There's this new and kind of weird formatting wheel, like a circular ribbon: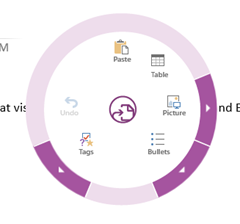 You get to it by clicking on the little "page with an arrow" icon that at first glance hovers kind of annoyingly in the right hand section of the app:

After getting used to its presence, though, we think we're going to like this wheely thingy. It's fast and animated, and gets you to what you need (insert tags, bullets, tables, pictures, or paste) quickly and easily, and we're sure quite useful with a touch device. If this is a hint at what's to come with the rest of Office, we're pleasantly surprised (unlike the former Windows Live counterpart app previews, which we've found to be basically useless, even in their current iteration).
Anyway, if you're on Windows 8, head over to the Windows Store and install OneNote MX (for Metro eXperience?), and let us know what you think.