Microsoft unveiled "Office 2013" yesterday, and while much of it is just a newer, cleaner look and feel for what we've become accustomed to in Office 2010, there are a few surprises.  One of those is getting a bit of attention, the discovery of a right click "SkyDrive Pro" item that is showing up in Windows Explorer: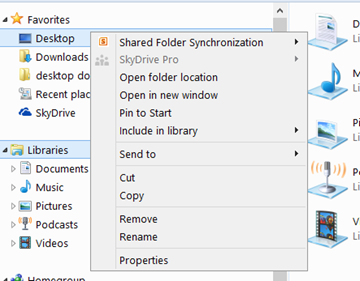 The option is currently grayed out, and that's causing a ripple over on Twitter about just exactly what it is.  First, remember that the version of Office offered first and probably most commonly downloaded is not just Office but "Office 365 Home Premium".   Just as a refresher, the Office 365 Home Premium Preview website describes the services available with the product:
A personalized Office experience on up to 5 PCs or tablets.
Powerful new versions of Word, Excel, PowerPoint, Outlook, OneNote, Publisher, and Access.
Streaming full versions of Office applications with Office on Demand (PC running Windows 7 or 8 and Internet connection required).
If you're also trying Windows 8 Release Preview, be sure to check out the OneNote Preview in the Windows Store. Keep your notes, pictures, voice memos, and web pages in one easy to access place so you have them when you need them.
Coming soon, with the full release of Office 365 Home Premium:
Talk to anyone using Skype, including 60 minutes of free international calls every month to landlines in over 40 countries and to cell phones in 7 countries. (Skype account required. Excludes special, premium and non-geographic numbers.)
Get an additional 20 GB of SkyDrive online storage for easy access and sharing of your documents.
Office for Mac
(emphasis ours)
While a Bing search for more definitive information on SkyDrive Pro from Microsoft came up empty, via Twitter we found a "SharePoint Expert" from France, Benoit Hamet, who explains in a blog post:
With Office 2013, SharePoint Workspace doesn't exist anymore.

It's now replaced by SkyDrive Pro.

As part of the new features, SkyDrive is fully integrated to Windows Explorer: when you select a SharePoint library to keep available offline, the content is appearing on Windows Explorer in a Favorite place called SharePoint Libraries.
(So, just to be clear: SharePoint Workspace (which used to be Groove), is now SkyDrive Pro, and can be found on your desktop under "SharePoint Libraries".  Got it?  sheesh)
LiveSide readers may remember back to the days when there was Office Live storage, and Windows Live Mesh storage, and SkyDrive storage, but they couldn't be used together in any meaningful way, and understand the concern of some on Twitter that having 2 separate SkyDrives (one personal 25 gb (or larger), and another 20gb of "SharePoint WorkSpace v.Next".  Will we be able to store documents to either our personal SkyDrive, or SkyDrive Pro from Office 2013?  Will we be able to get to either or both, mixing and matching documents, in the cloud from some exotic (we hope) location?  Can we access SkyDrive Pro on Windows 7 / Office 2010 machines?
Dare Obasanjo, who works at Microsoft most recently (we think) on Live Connect APIs, asked on Twitter is the expectation that your workplace documents be in the same place as your personal stuff?, but that question seems a bit silly when we're talking about "Office 365 HOME Premium".
We're sure there are good answers to these and other questions, and we haven't heard much in the way of details about the SharePoint / Office 365 Home connection.  But since SkyDrive Pro was "discovered" by users, and not talked about in yesterdays event, it's not surprising that questions have arisen, especially given the dodgy nature of SkyDrive / Office Live compatibility issues in the past.