Over on the Office Next blog today, John Jendrezak, Partner Group Program Manager for Microsoft Office, posted details about the upcoming Office Web Apps Preview. According to Jendrezak, users will be able to try out the upcoming Office Web Apps Preview on SkyDrive.com "over the next few days". The blog post mentioned on a high level what's new in the new version of Office Web Apps, as quoted below:
Far richer editing – the Word Web App has an all new page layout with much greater formatting capabilities. PowerPoint now supports creating transitions and animations. Excel has dramatically improved chart rendering and an all-new Interactive View that brings the power of Excel to any table of data on the web. OneNote has better navigation and search.
Web Apps wherever you go – the Web Apps are now available on a broader set of devices, browsers and sites. They work great on the latest browsers, including new "touch-friendly" UI controls. Our mobile interface has been redesigned to take advantage of today's smartphone capabilities. The Web Apps are integrated with more services you use all the time, like Exchange, Lync, and Facebook.
Collaboration and sharing – you can now co-author in all four Web Apps (Word, Excel, PowerPoint, and OneNote). We've also integrated commenting and sharing into the Web Apps hosted on SkyDrive and Office 365.
Performance improvements – we've improved performance significantly. The UI has been updated to have a more modern, cleaner look, with less distraction from your document's content.  There are even animations that make transitions feel smooth and fluid.
In this blog post, we'll take a closer look at what's new in each of the Office Web Apps – Word Web App, Excel Web App, PowerPoint Web App, as well as OneNote Web App, and offer you a better glimpse at what to expect when it rolls out on SkyDrive.com.
Word Web App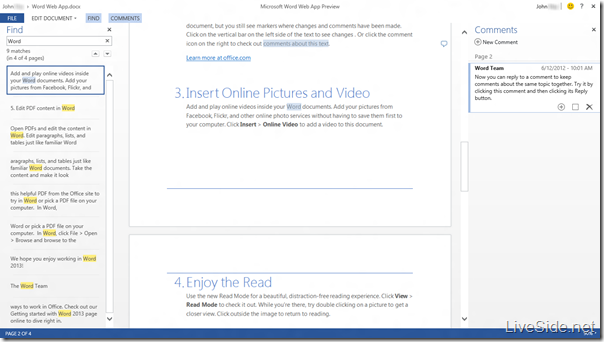 Word Web App has quite a few improvements since its existing version. This includes:
Excel Web App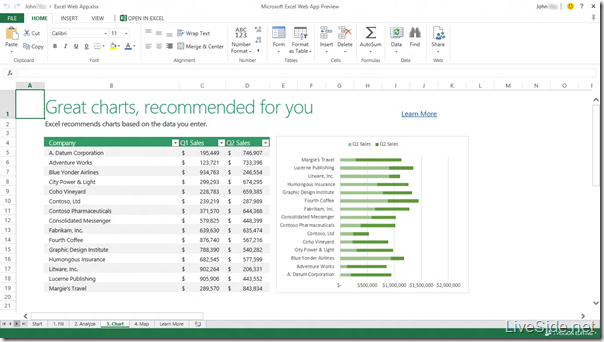 Excel Web App had always been one of the better-featured apps with a more complete set of features, however the new version improves upon this with a couple of new features:
PowerPoint Web App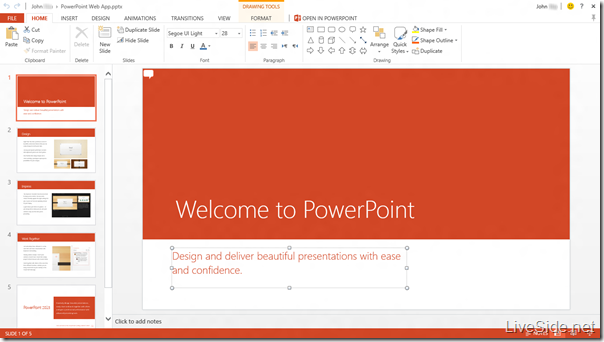 PowerPoint Web App is perhaps one of the most significantly improved app in this newer version. Some of the major new features include:
OneNote Web App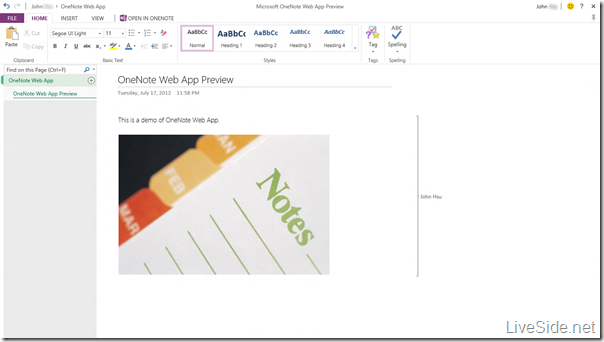 To be honest, OneNote Web App is one of the least changed apps out of the four Office Web Apps. The only main difference we have noticed is the ability to search for text within a particular Page or Section, as shown in the image above. Other than this, as well as the improved visuals and performance, OneNote Web App Preview remains identical to the existing version in terms of features and functionality.
As mentioned above, you will be able to opt in to Office Web Apps Preview on SkyDrive.com very soon. In fact, stay tuned at http://skydrive.live.com/officebetaoptions or http://skydrive.live.com/?officebeta=1 (which both currently still says the Preview is unavailable at this time) for when you can sign up to the new Office Web Apps Preview. So what do you think about the new features and improvements to Office Web Apps? Which new feature excites you the most? What else would you like to see in each of the Web Apps? Let us know in the comments below!
Update: Office Web Apps Preview is now available on SkyDrive.com! Visit http://skydrive.live.com/?officebeta=1 to get started. Note that some features such as Excel Forms and Word document embedding is not yet available initially.