Nokia and Microsoft both released quarterly earnings reports today, and together they lost over $2 billion dollars for the quarter.  Nokia lost $1.72 billion, and Microsoft chipped in with another $492 million in losses.
Microsoft posted its first ever earnings per share quarterly loss, after taking a $6.2 billion dollar writedown on the ill-fated acquisition of AQuantive, a successful online advertising company from Seattle, which simply didn't survive being assimilated into Microsoft.  If you remember, Microsoft acquired AQuantive in 2007 after losing a bidding war for DoubleClick to Google.
But despite the losses, investors found silver linings in both earnings reports.  Nokia has managed to hold on to its cash reserves, and North American sales, which were up 45% (but what Steve Ballmer might call going from "very small to very small").  Nokia Lumia sales were at some 4 million units for the quarter, twice as many as last quarter (but again, very small compared to Samsung's 50 million units shipped for the same quarter).
And Microsoft continues to rake in the money, despite having to bite the bullet on a $6 billion mistake.  Sales for the quarter were at $18 billion, and when you subtract out the AQuantive adjustment, Online Services lost less money than it usually does.  Still, Business Insider couldn't help but continue its quarterly jab at Microsoft's Online Services losses, as usual in the form of a "Chart of the Day":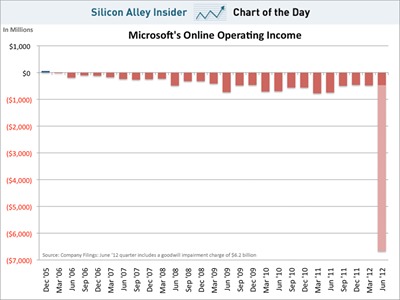 In more ominous news, however, Yahoo! continued to report, in their own quarterly earnings, also released today, less than stellar "RPS", or revenue per share, numbers, which are crucial to the Microsoft – Yahoo! Search Alliance.  Danny Sullivan at Search Engine Land takes an in-depth look at those numbers over the two year life of the Search Alliance, questioning whether or not Yahoo! will elect to stay with Bing, or try again with Google.
Interestingly, if Microsoft had handled the AQuantive assets better (a number of former AQuantive employees felt that Microsoft was to blame for its poor performance after the acquisition, according to a GeekWire post at the time of the writedown announcement), it stands to reason that their RPS with Yahoo! might be better off today.  Instead, Microsoft wrote off $6.2 billon, and stands to lose the Yahoo! alliance as well.
Microsoft has made big bets with Bing, with Windows Phone, and with Windows 8.  Nokia has bet the house on Windows Phone, and Yahoo! has a lot riding on Bing.  The earnings reports today don't show any winners or losers, but make it clear just how much is riding on Microsoft's big bets.  These next few quarters are going to either show big turnarounds for Nokia and Windows Phone, for Bing and Yahoo!, and for Microsoft with Windows 8, or dire consequences for perhaps all three.