The Office Web Apps Preview update was rolled out to all SkyDrive users yesterday, with both the Inside Windows Live blog and Office Next blog announcing its availability. For those who haven't seen it yet, you can also check out our very own in-depth look at what's new in Office Web Apps by clicking here. During both our review as well as on the Office Next blog, one of the features revealed is Excel Forms on Excel Web App. However, for those who had tried out the new Office Web Apps Preview on SkyDrive, you would've noticed that Excel Web App does not currently have Excel Forms enabled.
According to Dan Battagin, Principle Group Program Manager on the Excel Web App team, who left a comment on the Office Next blog responding to the question of why Excel Forms is not enabled on SkyDrive yet (emphasis ours):
The best way to try out Survey's right now is to head on over to the Office 365 preview and try the Office Web Apps [on SharePoint Online (or SkyDrive Pro)] there. Forms are coming to the Office Web Apps on SkyDrive, but due to some last mile integration points, they won't light up there until next month.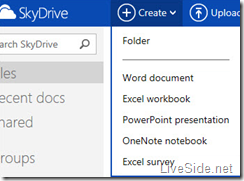 We suspect the "last mile integration points" relates to how Office Web Apps and SkyDrive integrates with each other (see our exclusive sneak peek screenshot on the right, showing Excel survey as an option), and that Excel Forms requires an update to the SkyDrive backend in order to function. As such, by induction, we're suspecting that Microsoft is due to release the next SkyDrive update next month in August.
This is not first time a August release timeframe for the next SkyDrive update had been rumored. Back in May, a rumor came about indicating that the next SkyDrive update is due in late July or early August, and suggests that it will come with an Android app as well as a Recycle Bin feature. LiveSide is also able to confirm that the next SkyDrive update will come with a Metro-style interface, but more on that in a later post.
Given the quarterly update schedule for SkyDrive in the past, we think an August release is plausible given the last update was rolled out in late April. Stay tuned at LiveSide for more details on the next update to SkyDrive, Hotmail, and more!