If you are one of the lucky ones, you may have seen the new Metro-style Microsoft account page when you visit http://account.live.com. Well the update doesn't simply involve a new look, but it appears the update also bring some new features. One of these new features we have noticed is the enforcement of stricter password controls which has been updated from the previous minimum password length requirement of 6 characters. The new password requirement now requires the following:
Passwords must have at least 8 characters
Passwords must contain at least two of the following: uppercase letters, lowercase letters, numbers, and symbols
Password can't contain the part of your email address that comes before the @ sign (existing requirement)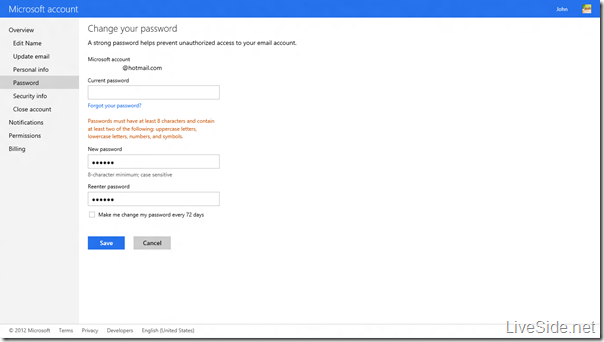 Microsoft only just posted a week ago about the security mechanisms that are in place to protect your Microsoft account. The strengthening of password requirements adds to the security mechanisms already in place, which can only be a good thing.
The new password requirements won't be enforced unless you manually changes your password on the new Microsoft account page. However, if your password is considered "weak", you may receive a prompt when you next log in to ask you to change to a stronger password.
You can check out this Microsoft Safety and Security Center article to see how you can create a strong password. Given the increasing usage of Microsoft account across various cloud-connected products, including but not limited to Windows 8, Office 2013, Windows Phone, SkyDrive, Hotmail, Xbox LIVE, and much more, it is probably best that you safeguard your Microsoft account as best as you could.