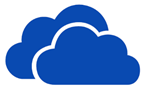 Yesterday we've caught a glimpse of the new Metro-styled design for the Microsoft account page, which just rolled out around the world. Before that, we've also given you a sneak peek of the new Metro-style interface for Hotmail as well as the Profile page (soon to be called Microsoft account as well). Today we managed to grab hold of a series of screenshots showing the brand new SkyDrive, also in its all Metro-style glory, to be released as soon as August next month. Check it out below: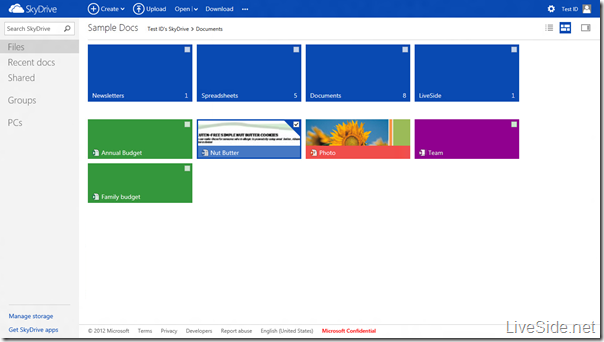 As you can see in the screenshot above, the new interface is clean and intuitive, and is especially designed for touch-based devices in mind. Consistent with what've we've seen with Hotmail before, the contextual menu has been moved to a slim bar up the top, whilst navigation elements, including the search box, are placed on the left, thus maximizing the screen real estate for your content.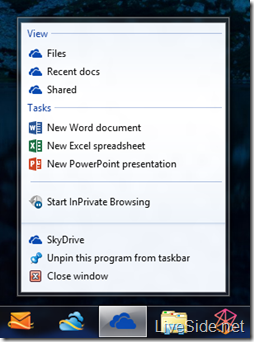 In terms of UI, based on a quick glance at the screenshots we've noticed the following changes:
You can now select files and folders in thumbnail view. Before this you could only select files and folders and perform actions on them in details view.
SkyDrive now shows thumbnail previews of Office documents.
Windows Live Groups is now part of SkyDrive. Visiting http://groups.live.com will redirect you to SkyDrive.com's Group page (as shown in screenshots below).
SkyDrive options, such as managing storage, people tagging, and Office document formats, can now be found in one place. Previously all of these options are scattered across Windows Live options and SkyDrive.
Changing the UI language, as well as leaving feedbacks for SkyDrive, can now be performed without leaving the page.
The new SkyDrive logo, as well as the new Office 2013 icons, are now used across the website. Even the IE Pinned Sites (shown above) now shows the new logos and icons.
We also expect that Excel Forms (Surveys), as well as the ability to embed Word, Excel and PowerPoint documents, to be enabled in the new SkyDrive release. Of course, what we have described here only relate to the UI changes that we were able to observe from these screenshots. We expect there will be additional new under-the-hood features and enhancements that are not shown in these screenshots. Nevertheless, check out the suite of screenshots of the new SkyDrive below:
| | |
| --- | --- |
| | |
| PCs | Submit feedback page |
| | |
| Groups | Create a group |
| | |
| Options – Office Web Apps Preview | Header navigation |
As an added bonus, we also managed to grab hold of a screenshot of the Windows Live Devices website, which is used to manage devices and folders synced from the Windows Live Mesh application (part of Windows Live Essentials 2011). The website too has received a Metro overhaul, and most interestingly, the 5 GB of "SkyDrive synced storage" has been renamed to "Mesh synced storage" to avoid confusion between the two, particularly given that the new SkyDrive app for Windows and Mac also provides synchronisation and cloud storage capabilities. Check it out below: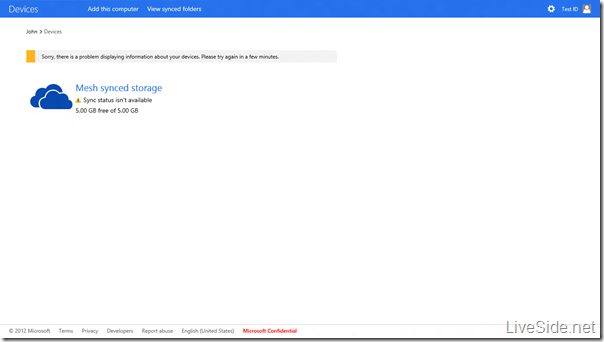 As always, these screenshots are from a pre-release version of SkyDrive, and as such everything you see here are subject to changes before it gets released. How do you like SkyDrive's new look? Let us know in the comments below. Make sure you check back at LiveSide as we'll continue to cover the latest news on the upcoming upgrade to Hotmail, SkyDrive and more. Stay tuned!