Microsoft announced during the Windows Phone Summit back in June that a preview version of the Windows Phone 8.0 SDK will be made available for developers late summer. However, it appears a copy of the Windows Phone 8.0 SDK has been leaked to the web today, coming at a whooping size of 1.35 GB. As reported earlier, the SDK requires Windows 8 Release Preview to be installed in order to function. Check out the release notes below: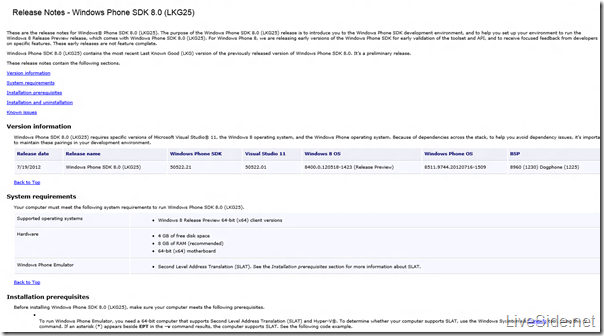 According to the release notes above, the SDK is labeled for "Windows Phone SDK 8.0 (LKG25)" with Windows Phone 8 OS version 8511.9744.20120716-1509, with a release date of July 19, 2012, making the build quite recent. The SDK is for Microsoft Visual Studio 2012, and the release notes also indicates the following system requirements for the SDK:
Supported operating systems

Windows 8 Release Preview 64-bit (x64) client versions

Hardware

4 GB of free disk space
8 GB of RAM (recommended)
64-bit (x64) motherboard

Windows Phone Emulator

Second Level Address Translation (SLAT). See the Installation prerequisites section for more information about SLAT.
Along with the SDK, several other help files and documentations were also leaked, as shown in the screenshot below: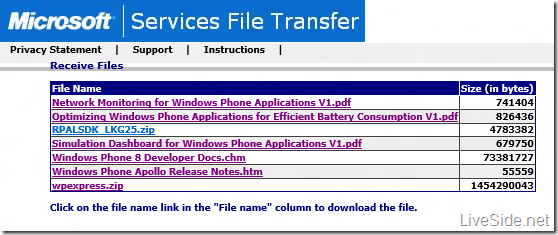 You can get the new Windows Phone 8 SDK by following instructions from WPXAP.com. Try it out now!
Update: Here's a nice diagram we found that explains the different APIs available in Windows Phone 8, and compared to those in Windows 8 (WinRT):