While we've been expecting the arrival of "NewMail" for quite some time, (and maybe precisely because we've already shown you "NewMail"

), we didn't have much notice on today's news, and so like you we're scrambling to get our heads around what may be the most significant change so far in terms of the move from Windows Live/ Hotmail branding, to the new world of Metro, Office, and a more unified Microsoft.
We had one minor issue that may affect a few of you – for years we've used Windows Live Admin Center to administer our @liveside mail, but we were unable to log in to Outlook.com with those addresses.  Turns out that having "co-branding" turned on in WLAC, which put our (by now quite old and outdated, by the way) logo into our Hotmail header and the login page, didn't play nice with the new Metrofied Outlook.com.  Deleting the logo got us back up and running, thanks to a bit of help, which we really appreciate.
Now on to the more important things.  The easiest way to get to the new look is to log in at www.outlook.com.  We're expecting more ways to upgrade to the new experience (something in Options might be one possibility) to show up, but for now, just log out of your Hotmail, go to Outlook.com, and log back in.
We were finallya able to create a new Outlook.com address (but hey, we barely use the @live.com addresses we rushed for back in the day, as it turns out), but the problems we had getting in earlier are to be expected, and it looks like Captcha is a bit of a bottleneck.  Keep trying, and expect things to get sorted out soon enough.  Even though this is a new preview, it's still the biggest webmail on the planet, and now with the power of Office behind it it's only going to get more popular.
You can also either change your email address (be careful, it's permanent and may affect your Windows Phone setup, etc.), or as you've been able to do for over a year in Hotmail, create an alias.  You can do both in Outlook.com settings, just click on the "gear" icon in the upper right hand corner.
Overall, we're very impressed with what is going to prove to be a bold rebranding move by Microsoft, and one that really begins to make sense of the move away from Windows Live.  One minor detail, for those of you who obsess over things like logos and icons: the move neatly solves the riddle of why we had a new SkyDrive logo, but not a new Hotmail one.  Now it's all Outlook: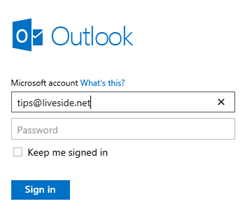 But in the bigger picture, there are really very few branding changes that would work for Hotmail.  If you're here in the United States, "Hotmail" has quite a negative connotation: it's that email service you use for junk mail, or when you're asked to provide an email address to a service you don't want filling up your "real" address.  A name change is welcome and almost necessary.  But in many parts of the world, where Hotmail is the defacto webmail service, just changing the name isn't that easy.  Microsoft tried once before, attempting to change the name to "Windows Live Mail", but never made it out of beta with that change, and instead kludging together "Windows Live Hotmail".
Outlook is different, though. Everyone knows Outlook, and this rebranding neatly solves the question of what to do about an email component for Office Web Apps.  As Chris Jones says in the blog post announcing the preview:
You already know Outlook via the Outlook desktop application-for PCs and Macs-as the world's most popular application for reading email, managing a calendar, and connecting to people. And you may have used the Outlook Web App connected to Exchange Server in your organization. Now, in addition to a desktop application and a service for businesses, we're offering Outlook as a personal email service – Outlook.com.
So mail from Microsoft becomes Outlook, Outlook Web Access for business, and Outlook.com for personal use.  While changing the look and feel of Outlook Web Access will be another challenge as it will require retraining corporate customers and the help services that requires, we fully expect that at some point Outlook Web Access will be "Metro-fied" too, bringing the Microsoft Mail experience even closer together.
The promotional video included in the blog post gives us a hint at what will be the next big change for Microsoft, and that's the integration of Skype: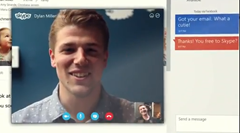 We get a glimpse of what Skype will look like in Outlook.com, and the new look "Messaging" we showed you last week is live: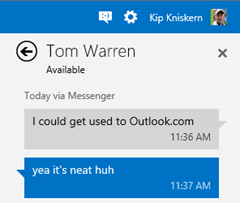 Speaking of that promotional video, we had to laugh at the "creepy ads" bit: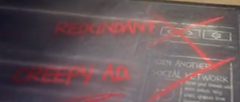 … but the whole ad experience (with Bing Shopping and deals replacing those "creepy" ads), and a contextual experience with the ads either replaced by "messaging" or the like, or just gone altogether when composing a new email:

… makes the ads much less intrusive, while still providing some opportunities for Microsoft. In addition, we have to note the bit of a snipe at Google in Chris Jones's blog post:
We don't scan your email content or attachments and sell this information to advertisers or any other company, and we don't show ads in personal conversations.
So what to do think of Outlook.com?  We have to say we're very impressed: not only by the clean new look for Hotmail, but by the direction making this (obviously huge) name change does for the future of consumer services at Microsoft.