You may have remembered back in November last year that we received tips from several readers about Microsoft silently testing the ability to save Windows Live Messenger chat conversation history in Hotmail. However, the feature never eventuated in Hotmail. Almost 9 months later, this feature finally makes its way to the new Outlook.com release. To enable it, simply click on the Settings "cog", then More mail settings > Messaging history: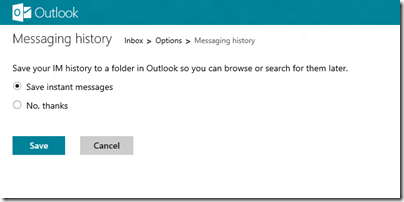 Once you've enabled it, any IM conversation that you have using Windows Live Messenger, Windows 8's Messaging app, Windows Phone's Messaging hub, or the new web-based Messaging sidebar, the conversation history will be saved automatically in Outlook.com under the folder "Messaging history", as shown below: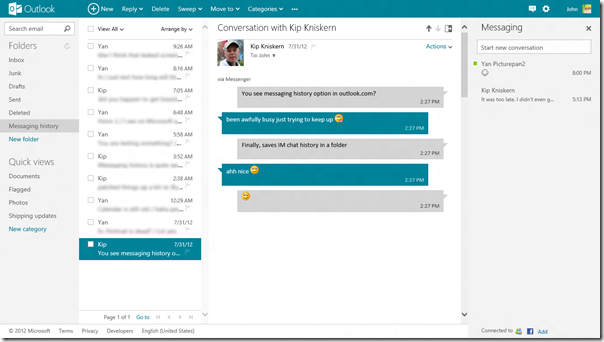 Based on our testing, this works for IMs on both Messenger and Facebook Chat networks, and potentially soon the Skype network too. However, do keep in mind that the conversation history will only get saved when chat session becomes idled or closed, so give it some time before it shows up in there!
The ability to save chat conversation history in the cloud is perhaps one of the most requested feature of Windows Live Messenger back in the early days, and we're glad to see it finally sees the light of day. What do you think about this new feature? Have you been waiting for this feature to come? Let us know in the comments below!