Along with the release of Outlook.com and the new People website, the Microsoft Service Status page, now located at http://status.live.com, also got a Metro-style facelift yesterday. Check it out below: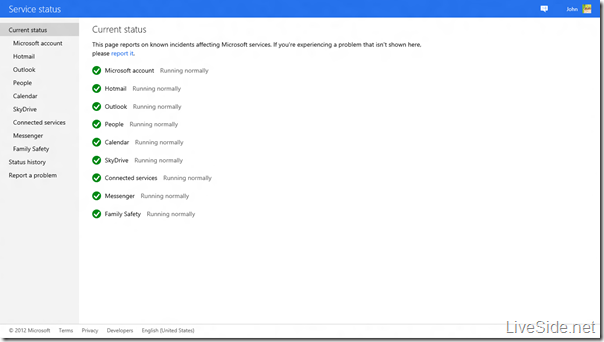 What's interesting about the update is that the new page gives us an idea of what Microsoft services (seems like this is how they refer to the formerly Windows Live services collectively now) are now considered in scope in the Wave 5 update. If we compare the list of services above against what we saw in November last year, we would've seen quite a few differences:
Service renames – this includes renaming Windows Live ID to Microsoft account, Contacts to People, and Social updates to Connected services.

In particular with the last case, with the refocus of what was known as Messenger Social and removal of "web activities", the focus had shifted to the few but important Connected services such as Facebook, Twitter, LinkedIn, Sina Weibo, and coming soon, Skype. Rather than attempting to have another social network, which kind of started in Windows Live Wave 3 where each ID had their own Windows Live Profile, Microsoft sees the future where users connect all other social networks to their Microsoft account, which seems to be a better model. As such, we will soon see http://profile.live.com branded as part of Microsoft account, the removal of most profile information and de-emphasis of status updates, and as you may have noticed already, the discontinuation of Windows Live Home in Outlook.com.

New services – the new page now tracks and reports on the real-time status of Outlook.com. But given Hotmail is running in parallel with Outlook.com (which is currently still in preview), you can actually see the status for both Outlook and Hotmail listed on the page.
Removed services – for those who had been keeping count, one service actually had dropped off the list – Windows Live Mesh. With the availability of the SkyDrive for Windows and Mac apps, which serves to gradually replace Windows Live Mesh, we will continue to see the de-emphasis on Windows Live Mesh and http://devices.live.com, which are kept only to support existing users who haven't made the move to SkyDrive.
What do you think about Microsoft's strategy in refocusing and realigning their former Windows Live services? Do you think they're on the right track? Let us know in the comments below.
Thanks Picturepan2 from LiveSino.net for the heads up.