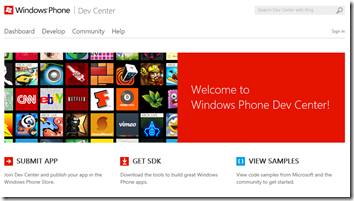 So last week Microsoft announced that their Windows Phone developer portal, App Hub, would be undergoing maintenance during the weekend. When it returned back online today, we're presented with a brand new portal – the Windows Phone Dev Center. According to the official Windows Phone Developer blog, the new Dev Center was redesigned from the ground-up, and is a results of months of careful planning and listening to feedbacks from developers. Prominent new features include PayPal support, expanded markets, pubCenter integration, support for in-app purchases, and better analytics and reporting. Below is a summary of what's new in the new Dev Center, according to the MSDN article:
Fresh, new experience

Dev Center is dedicated to Windows Phone developers. You'll notice:

A new name, an intuitive URL, and a brand-new user experience.
A clean, new interface that provides quick access to your Dashboard, content, SDK tools, and common tasks such as app submission.
A homepage that keeps you up to date with the latest news and events in the Windows Phone community.
Deep integration with MSDN, giving you direct access to the SDK library, forums, and code samples.
Forum profiles and settings are shared with Windows 8, so your responses in either forum add to your points in the MSDN recognition system.

Expanded registration and payout

Developer registration is now supported in over 178 markets. You can submit paid apps in 115 of those markets, and you can publish your apps in over 191 countries/regions. Dev Center improves your registration and payout experience in many ways. Now you can:

Change account info such as name, address, phone, email, publisher name, and approver contact info in Dev Center.
Submit digital tax forms for paid apps.
Create a pubCenter account and ad units for your ad-funded apps right in Dev Center.
Use PayPal for registration and payout in certain markets.
Share account info and vetting status with Windows 8.

New app and in-app submission workflows

Note: You can only add in-app products to Windows Phone 8 apps.

We've streamlined the app submission experience. Now you can:

Manage and submit your in-app products from Dev Center.
Submit apps using smart defaults, which allow you to publish apps in all countries/regions except the ones that have additional content requirements.
View ratings and reviews for all locales.
See quick stats for your apps and in-app products.
Submit multiple XAPs if needed and target multiple resolutions.
Customize pricing on a per-country/region basis.
Support thousands of users for beta testing your app.
Provide descriptions of your app in all supported languages.

Improved reports

Dev Center reporting has many benefits:

View your app downloads report by purchase type—Free, Paid, Trial, and Beta.
See reporting for in-app products.
Get currency exchange rate info for your payout report.

Integrated content

Dev Center brings together the content you need for creating and submitting apps for Windows Phone. We'll continue to publish new content to keep info fresh and relevant to your needs. You'll see:

SDK and API reference content.
Design guidance.
Tips and best practices for marketing and selling your app.
Helpful guidance about the submission process, app certification, reporting, and much more.
According to Microsoft, the new Dev Center portal is still in the process of rolling out and undergoing final tweaks, and as such over time you will continue to see performance changes and improvements. If you're a Windows Phone developer, or interested to become one, be sure to check it out at http://dev.windowsphone.com!