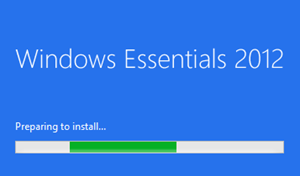 Microsoft released an updated version of their Windows Live Essentials suite, now simply called Windows Essentials 2012, yesterday, bringing the version number of most of the included applications – Windows Live Mail, Windows Live Family Safety, Windows Live Writer, Windows Live Messenger, Windows Photo Gallery and Windows Movie Maker, to version 16.4.3503.728. However, the key changes to the Windows Essentials suite (besides replacing Windows Live Mesh with SkyDrive for Windows application), are the rebranding of Photo Gallery and Movie Maker and addition of several new features to these two applications. The Windows Experience blog had given a nice overview of what's new, but if you want the full details of these changes (plus a few that wasn't mentioned in the blog post), we've got it here for you courtesy of Microsoft Answers:
Windows Photo Gallery

AutoCollage You can now select up to 50 images and automatically create a collage of your images with this new Photo Gallery feature. AutoCollage is accessed from the More Tools drop down in the Create tab.
Vimeo Publishing Plugin You can now easily upload your movie content to Vimeo, (one of the leading video sharing sites on the web today). This plugin will follow a similar flow to that of the YouTube publish plugin and is located in the Share group section of the Home tab.

Windows Movie Maker

Audio Narration Movie Maker now allows you to record narration and you can record while watching your video playback. Once recorded you can save the audio file and add it to a separate audio track. You can also add external items such as sound effects to the narration track. Narration can be recorded by clicking on the Record Narration button in the Home tab, or by clicking on the dropdown portion of the button to add an audio file to the narration track.
Audio Waveforms Waveforms have been added to help you to know where audio is in within your project. You will be able to determine where the high and low points are to help when making editing decisions. Waveforms are enabled from the View tab by clicking on the Waveforms button.
Audio Ducking and Emphasis To accompany Narration, Movie Maker now allows for audio ducking and emphasized audio. When you add a narration to your project, the audio from all other tracks will be temporarily reduced (ducked) while there is audible content on the narration track. You can also change the priority (emphasized) to one of the other audio tracks, reducing the volume on the remaining tracks. You may also adjust the mix between the two non-emphasized tracks. By default the narration track will be emphasized. These features are available from the Project tab.
Music Store download integration Movie Maker now provides you with a way to find and download music for your movies from AudioMicro, Free Music Archive (FMA) and Vimeo Music Store download integration. You can now add music to your projects that have the correct rights usage associated with it. Additionally, when you apply a theme to your movies, the credits are updated to include the artists who created the music. Associating the Creative Commons-focused artists helps the artists gain more visibility and notoriety,
Deferred Encode Proxy and Disable Transcoding Options After adding non-naively supported video to your project, Movie Maker will now generate low-resolution video previews for use when making edits to your movie, allowing you to edit your movie more quickly than previous versions. You can also disable video preview file preparation and sandboxing of non-native file types when saving a movie. However, this may have a negative impact on performance. These options are accessible from the new Advanced tab in the File menu.
MPEG-4/H.264 Encoding (MP4) Movie Maker now supports MPEG-4/H.264 encoding. H.264 encoding allows for smooth and seamless playback of your HD video recordings on a broader range of apps and devices, and reduces the amount of storage required for saving movies. MPEG-4 will be the default file format used when saving your videos, but you will still be able to save your movies using the WMV format.
Video Stabilization and Rolling Shutter Correction (Windows 8 Only) You can now stabilize your shaky videos and correct wobbling in your Movies using the new Stabilization and Wobble Correction (Rolling Shutter correction) features. These are available from Edit tab's Videos stabilization button/dropdown.
Outlined Text Movie Maker now supports customizable outlined text, improving the overall quality and readability of the messages in your movies.
Videos As Audio In addition to supporting a large number of audio formats, you can now use your Video files as an audio source for your audio tracks. To add your audio source from a video file, you can select the Add Music button and then select video extensions to display video files.
Vimeo Publishing Plugin You can now easily upload your movie content to Vimeo, (one of the leading video sharing sites on the web today). This plugin will follow a similar flow to that of the YouTube publish plugin and is located in the Share group section of the Home tab.
Project Auto-Save Project files are now periodically saved when working on your projects. This will allow you to recover data from your projects in the case of unexpected or unintentional app closure.
If you haven't done so already, you can download the English version of Windows Essentials 2012 by clicking here (for web installer) or here (for full installer).