Whilst Microsoft is setting up its Xbox 360 console to be the hub of entertainment in their living room, Xbox 360 owners had long been complaining about the lack of a simple functionality that allows them to easily play music and videos on their big screen using their console – native Play To functionality. For years, Microsoft only allowed users to stream their music and videos hosted on another PC in their network via the Windows Media Center Extender functionality, however this is set to change in the upcoming Fall 2012 dashboard update.
According to TechIT.co.il (via The Verge), Microsoft has finally added native Play To functionality to the Xbox 360 console, as shown in the screenshot below: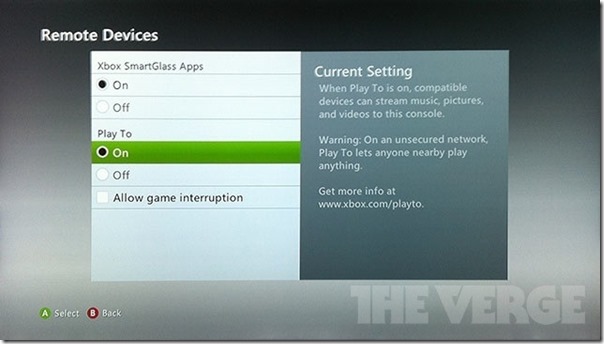 What this means is that users will finally be able to use any of their Play To compatible device (i.e. many smartphones and tablets, Windows 7 and Windows 8 supports this functionality) to stream their music and video to their TV screen via Xbox 360. You can check out a demo video of this functionality in action:
[youtube_video]3wNHvFec7NM[/youtube_video]
The addition of this Play To functionality, as well as the introduction of Xbox SmartGlass, finally brings Microsoft's vision of three-screens-and-the-cloud closer to reality.