A post on the Windows Team blog by our old friends Omar Shahine and Mike Torres makes official what we've been waiting for, an update to SkyDrive, bringing it into the fold with the same "modern" look as Outlook.com (the preview replacement for Hotmail), Windows Phone, and Windows 8.
The post outlines the improvements, which in addition brings the SkyDrive desktop app out of preview:
SkyDrive.com – New, modern design for desktop and tablet browsers with instant search, contextual toolbar, thumbnail multi-select, drag-and-drop organization, and HTML5 sorting
SkyDrive for Windows desktop & OS X – Faster uploads for people around the world and tons of bug and performance improvements under the hood
SkyDrive for Android – A new app that lets you access, upload and share from Android phones
SkyDrive for developers – Apps built using our SkyDrive API can now store or access any type of file in a person's SkyDrive, plus there's a new, easy-to-use file picker API for websites (similar to our file picker for Windows 8 apps)
While we're not seeing the new UI, it's set to roll out "over the next 24 hours"  Here's a peek at what it will look like, via the blog post: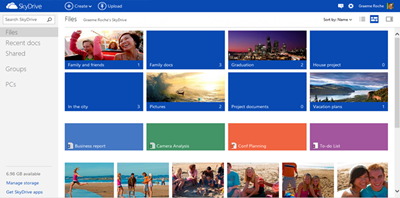 The update includes "a bunch" of new features, including Instant Search, even from within Office Documents stored in your SkyDrive; a contextual toolbar; multi-select drag and drop; and sorting improvements.
The update isn't only for SkyDrive.com, either.  The SkyDrive desktop app is being updated, too, and will roll out over the next week.  While "selective sync" isn't part of the update, it's coming, soon:
We've heard feedback that some people would like to specify which folders in their SkyDrive sync to their PC. This can be due to space constraints on their laptop or tablet, or because they don't want personal files syncing to their work PC. We're working on a solution to this problem but can't give specifics yet—stay tuned!
Photo uploads and a much faster syncing appearance did make this update, however, and you should find file syncs and photo uploads much faster, as demonstrated by this graph: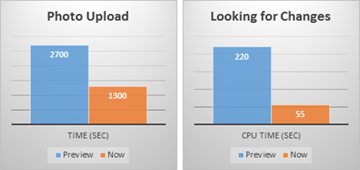 Oh, and one more thing: well two more things, really.  An official Android app is coming "in just a few weeks", and developer APIs have been updated to provide full control over photo upload resolution, no more file restrictions, and open and save file pickers.
You can learn more about the newest member of the "modern" family on the blog, or just check your SkyDrive and let us know if the SkyDrive.com update has rolled out to you!