One of the revelations in today's SkyDrive update announcement was that Microsoft is set to release its first official SkyDrive for Android app "in just a few weeks".  Microsoft released apps for Windows Phone and iOS back in December 2011, and since then, they say, almost 4 million people have used the apps to access SkyDrive.com.
In the blog post announcing the updates, Microsoft provided a few details about the Android app:
The Android app is similar to our mobile apps for Windows Phone and iOS and allows you to browse your SkyDrive, upload files to SkyDrive, as well as share SkyDrive files with "Send a link." You'll also be able to open SkyDrive files from other apps, as well as upload, save, and share to SkyDrive from other apps.
and provided a couple of screenshots: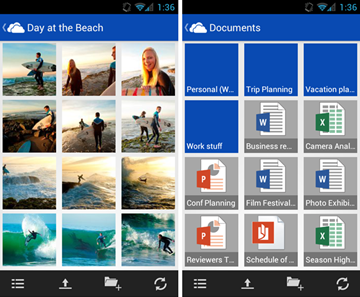 Since then, Matt Rosoff, writing in CiteWorld, has provided a few more details about the SkyDrive for Android app.  Rosoff, in an update his post questioning on which versions of Android the app would run, got this response:
UPDATE: Microsoft says it will run on Android 2.3 "Gingerbread" and later devices that can connect to the Google Play store. That means it will run on about 75% of the Google-sanctioned Android devices currently in the market, according to June 2012 statistics from Google. (That excludes devices like the Amazon Kindle fire, which use a forked version of Android.)
In other related news, Ed Bott of ZDNet tweeted that the last remaining piece of the Hotmail/Outlook.com, SkyDrive/modern SkyDrive puzzle, an update to the long neglected Windows Live Calendar, will be getting the "modern UI" treatment "soon".  When asked, Bott further clarified:
[blackbirdpie url="https://twitter.com/edbott/status/235491766055350272″]
That would nicely package up this summer's updates just before the US Labor Day holiday, and set the stage for the upcoming releases of Windows 8 and Windows Phone 8.
Are you excited about the new SkyDrive (which we're still anxiously awaiting)?