Back in July, there were strong rumors indicating that Microsoft will be revealing the consumer features of Windows Phone 8 during Nokia World 2012, scheduled to be held in Helsinki, Finland on September 5, possibly also accompanied by the announcements of the first Nokia Windows Phone 8 handsets. Today two pieces of news came out revealing a rough timeline of when Microsoft plans to introduce Windows Phone 8 to the world.
The first news came from WPCentral who speculated that Microsoft might be releasing the Windows Phone 8.0 SDK to developers on September 7. Whilst a pre-release version of the SDK was leaked a few weeks ago, Microsoft have yet to officially unveil all developer features in the new operating system. WPCentral's speculation is based on Microsoft's website for their TechEd Australia conference, due to be held between September 11-14. They have spotted an oddity where details for all sessions were provided in full on the website, with the exception of the eight Windows Phone-related sessions. These Windows Phone sessions had the following comment on the website:
Windows Phone session abstracts and speakers will be released September 7.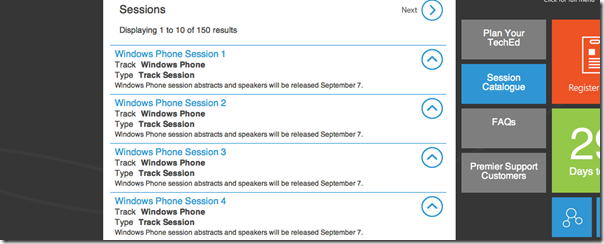 The embargo for these Windows Phone session details seems to indicate that the SDK, aimed at developers likely to be attending these sessions, will be released around the September 7 timeframe. Coincidentally, Nokia also has something "amazing" planned for September 7. Although we're not sure if the two are related.
The second piece of news came from Pocketnow.com, who reported that an internal memo was leaked from an unspecified Microsoft hardware partner hinting that Microsoft might officially launch Windows Phone 8 on or after September 30. The internal memo specified that the "initial announcement embargo date" is set as Sunday, September 30, leading to Pocketnow.com speculating that Microsoft may reveal information about the exact timing of Windows Phone 8's hardware releases on October 1, detailing when consumers can finally get their hands on the first WP8 devices.
On that note, we've already heard that Nokia may be launching their first Windows Phone 8 devices during the last week of October. WPDang also reported that HTC might be announcing their Windows Phone 8 lineup during the third week of September, with a launch date set as sometime in October. Samsung's Windows Phone 8 lineup, the "Odyssey" and "Marco", are also said to be coming in 4Q 2012.
If all goes as planned, it seems like consumers will be able to get their hands on the first Windows Phone 8 devices just a bit over two months. September certainly seems like it'll be an exciting month for Windows Phone!