By now most people should've seen their SkyDrive account being upgraded to the new "modern" look (build 16.4.8014.815), adding new features such as instant search, contextual toolbar, thumbnail multi-select, drag and drop, and sorting improvements. A few of our LiveSide readers also noticed that along with the SkyDrive update, other ex-Windows Live properties, including Profile, Groups, Devices, and even Messenger SmartScreen, have also received the "modern" treatment. Check them out below:
Profile
As we've reported before, Profile has been drastically simplified, thanks to Microsoft refocusing their efforts towards "Connected Services" such as Facebook, Twitter, LinkedIn and Skype, rather than attempting to create their own social network. Web activities are no more, and neither are things like status messages, social feeds, favorite things, and a whole bunch of other non-essential profile info. We've yet to see Sina Weibo and Skype becoming Connected Services, but we believe these will be turned on soon.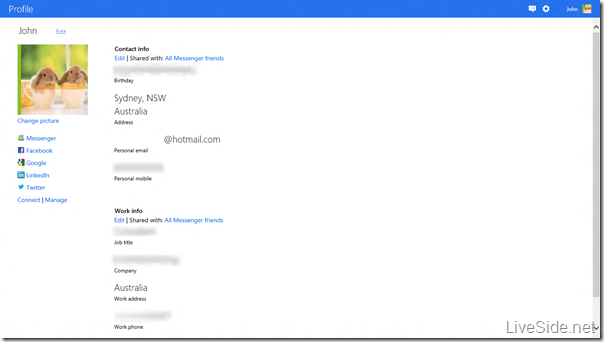 Groups
Here we mean Windows Live Groups, not the "groups" you see in People (which were once called "categories") or the "groups" you see on Windows Phone. When you visit http://groups.live.com, it will now take you directly to the Groups page on SkyDrive.com. To get to each of your Group's homepage, you will have to click on each Group's name in SkyDrive, then click "View profile" on the contextual toolbar up the top. Here you get to the new "modern"-look Groups homepage: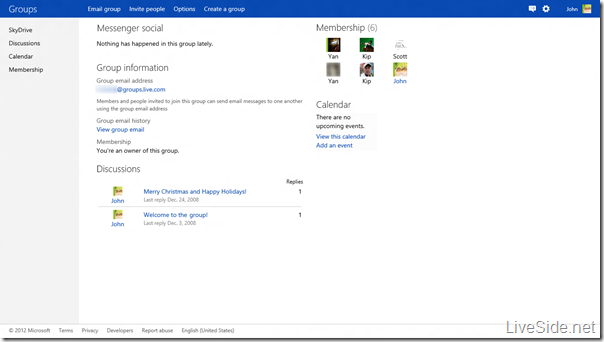 Devices
Devices, located at http://devices.live.com, has also received a "modern" makeover. Retained only for the purpose of supporting the now-replaced Windows Live Mesh, the new Devices page is the only way to continue to access your 5GB of "Mesh synced storage". Note that the devices listed on this page are relevant to what you have synced on Windows Live Mesh only. Those devices that you've synced with the new SkyDrive for Windows app will only show up under the "PCs" tab on SkyDrive.com.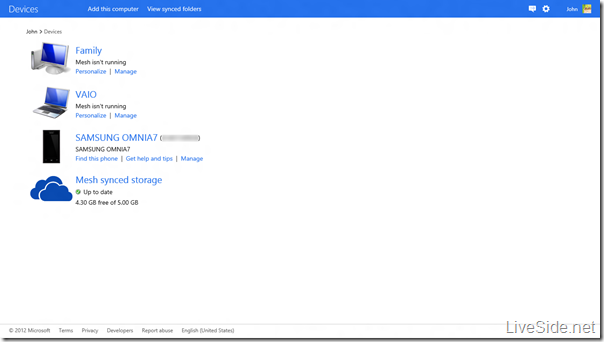 Messenger SmartScreen
When you're chatting via Messenger, either via the new Messaging sidebar, Windows Live Messenger, or the Messaging app on Windows 8, any external links that you click on are scanned by Microsoft's SmartScreen technology. Those websites that are deemed "less well-known" will display a gateway warning message, and this page too, has received the "modern" treatment, and you also now have the option to turn it off by checking the "Don't show this message for sites that aren't well-known" button.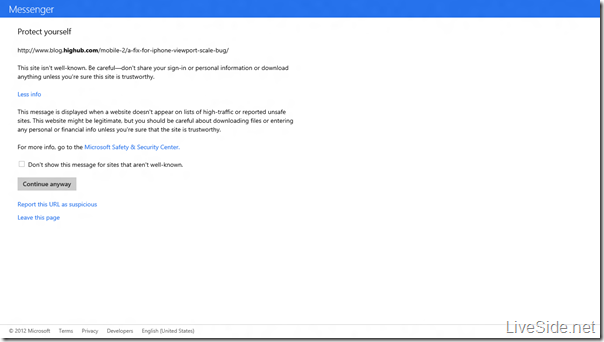 With today's updates, all ex-Windows Live services, with the exception of Calendar, has been updated with the new "modern" look. According to Ed Bott, the "modern" makeover for Calendar will happen later this month, meaning we'll see the new Calendar in about 2.5 weeks at the very latest. How do you like the new "modern" look? Let us know in the comments below!