Neowin.net has apparently got their hands on not only some screenshots of the long anticipated Skype "MX", if that's what it's called, but have actually been able to play with the app, for at least a bit.
Neowin first posted some screenshots of the new app earlier this evening: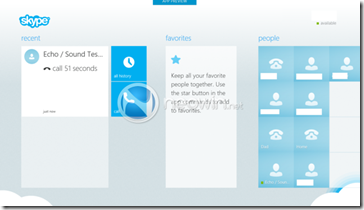 … and then a couple of hours Brad Sams from Neowin posted on Neowin's hands on experience with a preview of the app, calling it "fast" and "relatively solid", reporting that "it did not crash a single time":
During our time with the application, it did not crash a single time. In fact, when chatting via voice and text, the parties on the other end could not tell that we were using the preview app. Considering how well polished this application is, we fully expect that it will be released by Microsoft in the very near future.
Of course it wouldn't come as much of a surprise that a Windows 8 Skype app were to be released before or at least alongside a Windows 8 launch in October.  Microsoft has been very quiet about their plans for Skype, although with that $8.5 bil price tag we don't think they'll be quiet for much longer as they seek to promote Skype and Windows 8 together.
Head on over to Neowin for some more screenshots, and let us know what you think.   Should Skype replace Windows Live Messenger?  Would you rather use Skype than the unbranded "messaging" in Outlook.com and Windows 8?  And what IS Microsoft's messaging strategy, will we ever know?