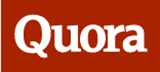 In May, Bing introduced a set of new features, including the Social Sidebar, allowing you to make your searches "social", by sharing them with others and checking up on what others in your social networks, or selected experts from some of the most popular social networks, are sharing with you.
Bing started out with Twitter and Facebook in the sidebar, and added Foursquare in July.  Now today, in a blog post on the Bing Search blog, they've announced that they're adding another service, this time Quora:
Quora is a knowledge sharing platform that lets you connect to everything you want to know about across a range of topics, questions and people related to what you're searching for. Now with Quora contributors on Bing, you'll see top answers and posts on a variety of topics — from Movies to Politics.

Starting today, users in the U.S. will begin to see top Quora contributors in the Bing sidebar. You can hover over their name to learn more, and click to go directly to the answers they have shared, bringing the wealth of shared knowledge on Quora to Bing users.
While the deep social integration is certainly a differentiator for Bing, it hasn't appeared to make much of an impact on search market share results, at least not in this early stage.   Is the Bing Sidebar something you want/need when conducting searches?  Have you shared searches on Bing, or clicked on any of your friend's suggestions?  Does the addition of "experts" from Quora and elsewhere make a difference for you? Are you even using the sidebar?
We'd love to hear your feedback on the addition of Quora, or on social integration in Bing, sound off in the comments.