As we're getting closer to September 5, the date for Nokia World 2012 as well as the joint Nokia and Microsoft press event, more details about Nokia's upcoming Windows Phone 8 devices are coming out. We've previously reported that a Nokia "Phi" Windows Phone 8 device will be announced on September 5. The device is said to come with a 4.7" curved display, polycarbonate design, dual-core CPU, external SD card slot, as well as NFC support, and is said to be the successor to the Nokia Lumia 800 and 900.
Images of an early prototype of the device was leaked via Sina Weibo earlier in the month, and photos of the device's display-digitizer unit, allegedly coming from ALPS, a sub-contractor for Nokia who handles parts for their phone development, was also leaked. Just earlier today, we also reported that the Nokia "Phi" is set to be coming to AT&T in the US as an limited-time exclusive flagship device.
Today, we also managed to find a Nokia design patent from the US Patent and Trademark Office website, only recently granted two days ago on August 21. Check it out below: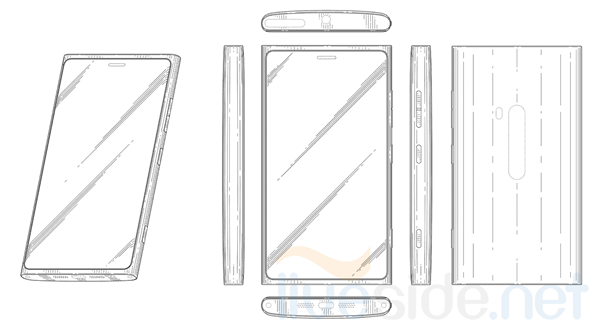 On first look it might resemble the Nokia Lumia 800 or 900, however upon closer inspection of details such as the location of the speaker and the width of the screen's edge reveals that this is actually the Nokia "Phi". We've provided a comparison between the above design with the leaked image of Nokia "Phi" below, as well as the Nokia Lumia 800 and 900 for reference, it is quite obvious which device this is: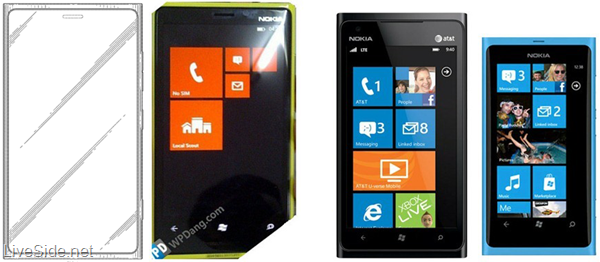 With less than two weeks to go, we can't wait to see what Nokia and Microsoft has to offer for Windows Phone 8. We will be sure to cover the news here on LiveSide as we get closer to date.