A new site devoted to the "virtual launch" of Visual Studio 2012 seems to be answering a couple of Windows development questions at once: apparently we'll be able to build what www.visualstudiolaunch.com calls (6 times on the home page!) "Modern apps" for Windows 8, and according to a tweet by @VisualStudio, that means, or implies to WMPowerUser.com that the Windows Phone 8 SDK will be launched by then, too (we posted on earlier speculation that the SDK might be released on September 7th):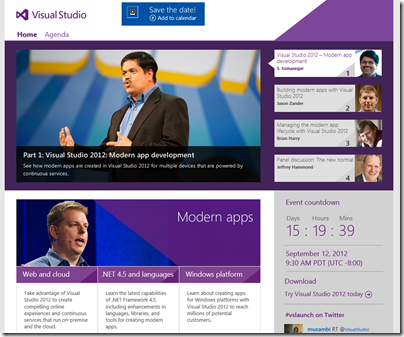 Microsoft has been using the term "Metro style apps" ever since it first introduced Windows 8 back at D9 in June 2011. But just recently, the company made an unannounced but noticeable switch from "Metro style apps", reportedly asking 3rd party developers to stop using the "Metro" term in their apps, and using both "Windows 8 style apps" and "Modern apps". Although The Verge had some insider info as to the reasons for the abrupt switch (a trademark issue, apparently with Metro AG from Germany), nothing has officially been announced (other than the purported memos to developers) either way. Microsoft apparently does not own any trademark rights to "Metro" (although Metro AG does), but then they don't appear to own any for "Modern" or "Modern apps" either (although maybe a "modern app" is fair use of the term). We've yet to hear anything definitive from Microsoft on the subject – Frank Shaw, are you listening?
Although we're a little concerned about this new penchant for non-naming of services (see: The Services Formerly Known As Windows Live), we're fine if Microsoft goes with "Modern". We kind of like it, and as Brent Schooley noted in our original post on the kerfluffle, it's an interesting throwback to the Modernist, or Bauhaus movement.
Anyway, and perhaps most importantly, it looks like Windows Phone 8 developers won't have to wait long to get the SDK, and they'll soon be able develop apps, no matter what they're called.