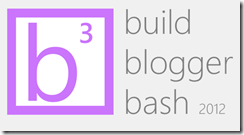 In just a few short weeks we'll be heading over to Redmond for Build, to hear all about Windows 8, Windows Phone 8, and lots more, and just like last time, we're getting together with some of our blogger/journalist colleagues to meet up and dissect the day one events, and, umm, go bowling!
If you're in Redmond for Build, live in the area, or happening to be vacationing in Redmond/Bellevue in November, now's the time to get signed up to reserve your place at our Build Blogger Bash, from 7-10pm on Tuesday, October 30th.
Travis and Ryan Lowdermilk, hosts of the Windows Developer Show, have put together the event, which will be held in a private room at Lucky Strike Lanes in Bellevue (hey, Bing is right upstairs!).  In order to secure the room and defray expenses, we're asking for $20 to get you in the room, get you going with 2 drink tickets, and there's free bowling to boot! (21 and over only).  Any proceeds left over after expenses will go to the Hole In The Wall Gang camp for kids, we're not looking to make any money.  Get your tickets early, space is limited.
Travis and Ryan will be webcasting live starting at 8:30 pm, so even if you can't make it to Redmond, be sure to tune in!