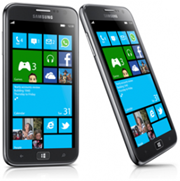 IFA, the consumer electronics show in Berlin, apparently is setting up as the de-facto unveiling for Windows 8 and Windows Phone 8 devices, with a number of manufacturers showing off devices this week.  While the show is decidedly Android focused, Sony and Samsung have both announced new Windows 8 tablets, and Microsoft, via its Windows Phone blog, is touting Samsung's new "Ativ S" Windows Phone 8 device, a super thin (and super big) phone sporting some super specs:
8.7mm thin brushed aluminum chassis
4.8" HD Super AMOLED display
Corning Gorilla Glass 2
1.5Ghz dual core processor
1GB onboard RAM
8MP rear facing camera
1.9MP front facing camera
16 or 32GB storage, both with Micro SD slot for more
2300mAh battery
physical Windows button
The Windows Phone blog post is promising a full recap of all the devices announced at IFA on August 31st on the Blogging Windows blog.
Sony introduced a  new set of tablet devices, including a $399 Xperia device (running Android) that may give us some clues as to Microsoft Surface pricing (although the Xperia costs another $99 for the keyboard), and two new Vaio Windows 8 tablets, the Vaio Duo 11, which Sony calls a "hybrid-style notebook", and the Vaio Tap 20, a 20" tablet.
Samsung also is introducing a series of Ativ tablets, some using their new "S" pen technology (Bill Gates would be so proud!):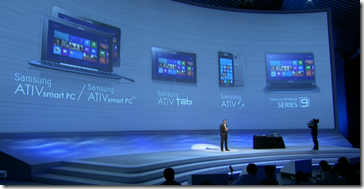 We'll be hearing lots more about new tablets and phones as IFA continues during the week, but things are definitely heating up!