The leaks just keeps on coming today, and we're just 6 days away from September 5, when Microsoft and Nokia are due to unveil details about Windows Phone 8 and their range of Windows Phone devices. We previously reported that Nokia may be announcing two Windows Phone 8 devices next Wednesday – the Nokia "Phi" and Nokia "Arrow" (both codenames). Images of both the Nokia "Phi" as well as the Nokia "Arrow" had also been allegedly leaked. Today, two renders of the devices, said to be officially called the Nokia Lumia 920 and Nokia Lumia 820 respectively, were leaked by Twitter user @evleaks. Check them out below:
Nokia Lumia 920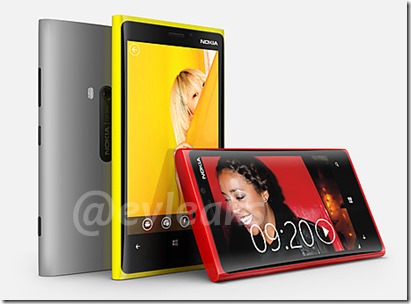 The Nokia Lumia 920, or codenamed Nokia "Phi", is said to come with a 4.5-inch screen with PureView camera technology. This is different from previous rumors of the device which is said to come with a 4.7" screen, but the design shown in the render exactly matches the design patent we've reported earlier this week, as well as leaked images of the actual device, so it might prove to have some credibility here.
Nokia Lumia 820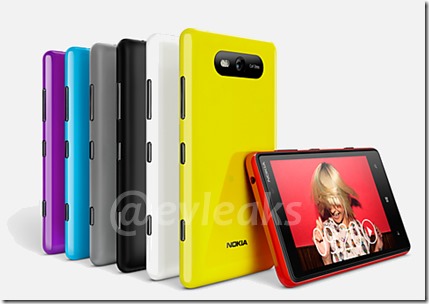 The Nokia Lumia 820, codenamed Nokia "Arrow" (or "Atlas" for its CDMA variant), is said to be a mid-range deivces with a 4.3-inch display with Carl-Zeiss camera. This is consistent with previous rumors of the Nokia "Arrow", however there's some slight discrepancies between what's in the render above and leaked images of the actual device. It could go both ways since what we saw earlier might be a prototype device, but if the render of the Lumia 920 above proves to be real, it's very possible that this render might depict the final device to be unveiled next week.
It'll all be revealed next Wednesday September 5 during Nokia World 2012, to be held in Helsinki, Finland, as well as the joint Nokia and Microsoft press event in New York. In the mean time, let us know what you think of the renders above. Do you think they're real? If it turns out to be real, would you buy one? Let us know in the comments below!