Back in April 2011, the Bing Maps team announced the Global Ortho Project, with a goal to create a "uniform, detailed map of the Continental United States and 17 countries in Western and Central Europe". According to the Bing Maps team, high resolution aerial map imagery was taken at a resolution of 30cm, that means every pixel equals to one square foot of land. Within two years, the Bing Maps team is happy to announce that the United States portion of the project is now complete:
In 2010 the Bing Maps team began its most ambitious mapping endeavor ever with the start of its Global Ortho (GO) project. Today we are excited to announce the completion of the GO project in the United States!

With the Global Ortho project, the Bing Maps Imagery team set a new standard in aerial map imagery by collecting every square inch of the Continental United States and Western Europe at 30cm resolution (1 foot = 1 pixel) in just two years – something that had never before been accomplished. This project has given us imagery that is brilliant, accurate and fresh, and the completion of the U.S. is a huge achievement! Now, more than ever we have the ability to deliver a consistent quality experience to all our consumers and enterprise customers.

The effort to bring high resolution imagery to market began in 2006 when Microsoft entered the aerial photography business with the acquisition of Vexcel Imaging.  Microsoft began evolving and improving the flagship UltraCam aerial camera, and over time, developed a special version of the camera that acquires a very wide swath of imagery at high resolution.  With this new camera Microsoft conceived the Global Ortho project, designed to bring consistent quality and resolution to every part of the United States and beyond.

And that is what is so special about the Global Ortho program. There is higher resolution imagery of some certain areas available, but there is no continent-wide mosaic at this high of a resolution. What GO brings you is an amazing view into familiar places (like your own home) and remote corners of the United States.
To celebrate the completion of the US portion of the project, the Bing team created a massive Bing logo at the Bing Maps Imagery Team's building in Boulder, Colorado, and during the team's one last "Golden Spike" flight for the project, the aircraft loaded with Microsoft's UltraCam Eagle camera will fly over the roof and capture this amazing photo. You can take a look at a sneak peek of what the team has done in the photo below: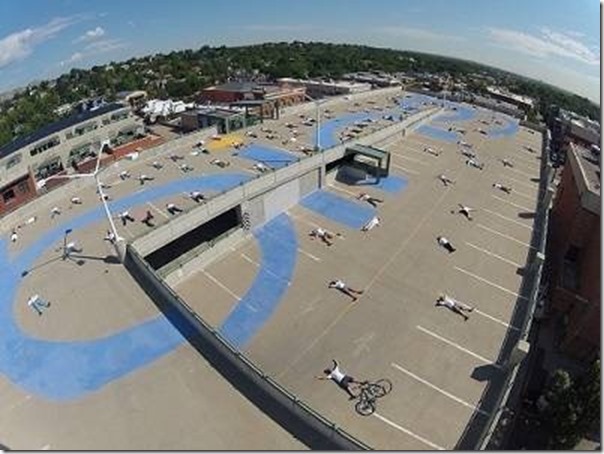 That's quite an amazing achievement by the Bing Maps imagery team. Congratulations!