As we're getting closer to September 5 when it is expected that Microsoft will be unveiling the consumer features of Windows Phone 8 to the world, more details are being leaked about the latest mobile OS. The latest came from The Verge who reported that the new Windows Phone 8 OS will include a parental control feature called "Kid's Corner". Below is how The Verge has described the new feature:
Kid's Corner, previously known as Kid's Zone, will be a separate Start screen environment designed for children to access apps, videos, games, and music that is shared by a parent. Thanks to a tipster, we've learned that Windows Phone owners will be able to setup a Start screen with the specially controlled apps on, and a child will access the feature by swiping from the left on the lock screen.

Once Kid's Corner is activated, children can then obtain full access to any games, music, videos, and apps that are enabled — including game scores and app passwords. Kid's Corner is then deactivated by simply pressing the power button on the phone. Parents have the option to control the accent color and name of the Kid's Corner through a customization menu in the setup routine.
Below are some of the screenshots obtained by The Verge from an anonymous tipster, showing how this feature might work: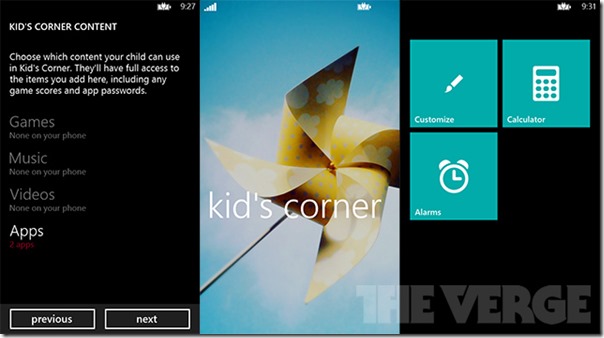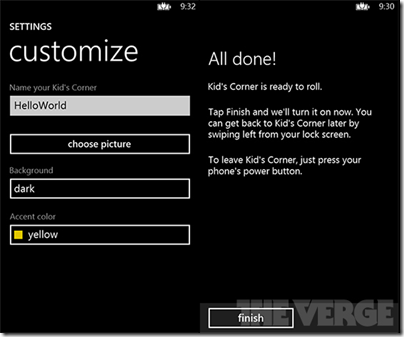 Personally we think this will be a very useful feature, even if you don't have kids, so that when you lend your phone to another person they won't accidently open your personal email, photos or other contents. How do you like this new feature? Will it be useful to you? Let us know in the comments below!