Two months ago we saw an early build of the Windows Phone 8 SDK was leaked to the web. Many people around the internet had been able to dig around the emulator, and many yet-to-be announced features were discovered. One of this is the ability backup text messages, including SMS and MMS, to the cloud. This is shown in the screenshot below: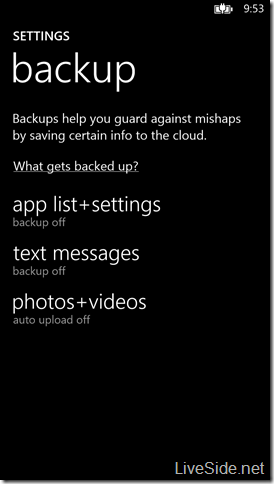 The Verge now reports that the text messages being backed up will be accessible via Outlook.com. With the release of Outlook.com back in early August, we saw a new feature where the service now saves all Messaging conversations (i.e. via Messenger or Facebook Chat) to a "Messaging history" folder. Given the Messaging hub on Windows Phone is tightly integrated with SMS, Messenger and Facebook Chat, we have reasons to believe that your SMS and MMS messages will be backed up and accessible via a similar location on Outlook.com.
Furthermore, besides text messages backup, it was also reported that Windows Phone 8 will sync settings such as themes, accounts, Internet Explorer favorites to the cloud, as well as app lists and individual app settings, as shown in the screenshot above.
SMS backups had been a highly requested feature that had been missing from Windows Phone 7. Windows Mobile 6.x users had a companion service called "My Phone" (codenamed SkyBox) which provided the ability to automatically backup SMS messages to the cloud, although the messages were accessible only via the "My Phone" portal which had since been discontinued. It is great to see this feature making a return to Windows Phone 8 with better integration with Outlook.com and other Messaging services.