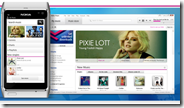 Today in a press release, Nokia announced Nokia Music in the USA, "a free mobile experience exclusive to Nokia Lumia handsets", available now to owners of Nokia 710 or 900 Windows Phones.
The service sounds impressive.  Highlights include:
It's free
No ads
No subscription or registration
Includes over 150 curated exclusive playlists, some created by global artists like Lady Gaga
Playlists are available offline
Users can use Nokia Music to generate their own playlists from a library of "millions of songs"
Includes "Gig Finder", which pinpoints live concerts, etc. in your local area
Collaboration between Green Day, AT&T, and Nokia for their new album "Uno" to be announced today, too.
In the press release, Nokia mentions the Nokia Mp3 Music Store, which as of this writing is not available in the US, but offers unlimited downloads of music you can keep on your Nokia mobile device (required to activate the subscription) and a designated PC (but not burned to CD, etc.) as a subscription service.
Nokia Music is available in a number of countries around the world, but it's interesting that today's press release points out the lucrative nature of the US market:
"The USA is the most vibrant and competitive digital music market in the world – by a wide margin. We have worked extra hard to ensure our service meets the expectations of the demanding, active and inspired music fans in the USA. I would like to challenge everyone to try Nokia Music and see just how easy and enjoyable the service is to use," says Jyrki Rosenberg, VP of Entertainment at Nokia.
Of course another music service is about to launch that seems to be in direct competition with Nokia Music, although we don't have nearly as many details (not even a launch date) for Xbox Music.  Presumably, the Xbox Music model will follow closely along the lines of Zune Music Pass, offering unlimited streaming of an announced 30 million + songs for a subscription price.  While the free Nokia Music service most likely won't carry nearly as many song choices as either the upcoming Xbox Music or Nokia's own paid subscription service, if it indeed comes to the US as well, the price is certainly right.
We're glad to see Nokia take an aggressive approach to its services as it seeks to get Windows Phone finally off the ground, but we're not sure that competing directly with other Microsoft services (we still don't know what's to become of Bing Maps vs. Nokia Maps, for example) is going to be helpful to Microsoft itself as it tries, once again, to launch a successful music service.
Are you excited for Nokia Music?  For Xbox Music?  Should the two services be tied more closely together?  Would you use both?