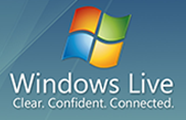 The renaming of Windows Live services and products continues, and today we're learning of an expected but as yet unannounced rename of the former Windows and Windows Live Division and the Windows Live teams, according to Mary Jo Foley:
Microsoft has renamed the team formerly known as "Windows Live" to the "Windows Services" team, according to my contacts. The division of which Steven Sinofsky is President is now going to be called the Windows Division, rather than the Windows and Windows Live Division, my contacts added.
Microsoft announced the decision to retire the Windows Live brand back in May, and has renamed several former Windows Live services to "Windows", a la "Windows Essentials", Windows Photo Gallery, Windows Movie Maker, and as we reported, what may soon be known as Windows Mail Desktop and Windows Writer.
Mary Jo further reports that the team responsible for the Essentials apps "are moving to a newly created 'Windows Apps' team", although from the looks of it so far, that team isn't used to moving very fast or very far.
In the meantime, Microsoft has apparently promoted Microsoft SkyDrive to a top level position, and it's still a bit unclear where Outlook.com (the former Hotmail) sits.  Has Outlook.com finally made a move to the Office Division? (recent Outlook.com posts have been showing up over at the Outlook blog, for one thing).  Hotmail, or Outlook Express, or Windows Live Mail, or Windows Mail, or any of the other variations on that theme have never sat in the Office Division, but now that seems to make more sense than ever.
And that of course leaves Windows Live Messenger seemingly hanging on by its fingernails, with no where to go (but to be swallowed up by Skype?).
As Mary Jo reports, Steven Sinofsky is still "President, Windows and Windows Live Division", at least for now, and as Microsoft has done away with its mid-level executive pages  (once a source of info on what teams sat where) we're hoping that everyone has new business cards printed up by Build.