Nokia showed off two impressive Lumia phones, Lumia 920 and Lumia 820, at the press event in New York. However, we just can not forget the OS which powers these two Lumia phones: Windows Phone 8. As part of the event, Microsoft's Joe Belfiore was on stage and revealed some of the new Windows Phone 8 features.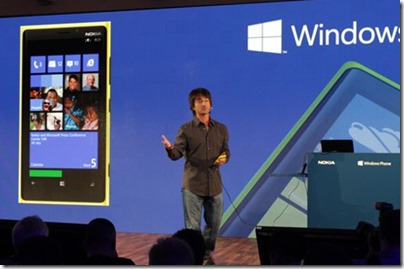 In the beginning of his demo, Joe Belfiore showed the new Start Screen and People hub of WP8. Microsoft already gave us a good look of the new start screen which featuring a new smaller size of Live Tiles at Windows Phone Summit on June. According to the liveblogging from The Verge, some other new features include:
Internet Explorer 10 – you can change the button next to the address bar to favorites or tabs. Also, you can pin HTML 5 websites to the new start screen.
Screenshots now supported natively in Windows Phone 8. The home and power buttons activate the screenshots and saves images to Screenshots album within Photos hub.
The expanded Camera experience –

Zoom bar now is replaced by Pinch to Zoom support
New controls of Flash
Lens apps which deeply integrated into camera, for example the Bing Vision and Photosynth

Skype for Windows Phone 8, with a new interface, was spotted, too.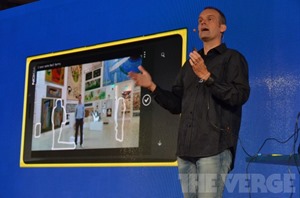 At the event, several other different lens apps were also be demonstrated – Blink Lens app, developed by Microsoft Research who also showed some similar technologies at TechFest 2010. Smart Shoot, which can analyze moving objects and allow you to tap and remove them, is similar to the Photo Fuse feature within Photo Gallery. And the Cinemagraph Lens app allows you to add motion to your still photos. Again, we have seen similar tech called Cliplets from MSR.
Microsoft has not yet showed off all the new features in Windows Phone 8, but as Joe Belfiore said "we're saving that for a later date". We are expecting a separate WP8 launch event in late October. (Photo credits by The Verge)