Bing has just rolled out a new marketing campaign based on a marketing survey it conducted showing that users prefer Bing search results 2 to 1 over Google in a blind test, according to a blog post on the Bing Search blog: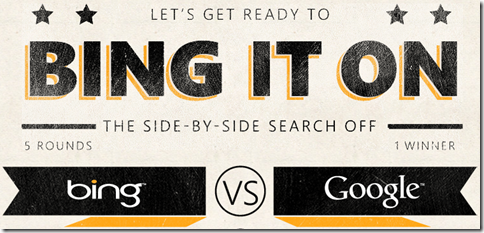 The campaign, centering around a "fun, non-scientific blind comparison test" available at BingItOn.com, will kick off with a new TV commercial aired on tomorrow night's MTV Music awards, and includes the Bing It On Sweepstakes, promoted Tweets, the ability to share your BingItOn results on Twitter, Facebook, and or Google +, and promotions in Microsoft Stores and in "pop-up Bing It On Challenge stations" in the coming months.
In a separate blog post on the Bing Search blog, Microsoft has provided some more details on the research that gave them the "Bing preferred 2 to 1" results.  The test was conducted by Answers Research, based in San Diego, CA, and sampled 1000 people online, all aged 18 or older, from across the US, using a test similar to the one at BingItOn.com, with branding and other differentiators removed:
When the results were tallied, the outcome was clear – people chose Bing web search results over Google nearly 2:1 in the blind comparison tests. Specifically, of the nearly 1000 participants: 57.4% chose Bing more often, 30.2% chose Google more often; 12.4 % resulted in a draw.*

*The overall sampling error rate for the study is +/- 3 percent at the 95 percent confidence level.
How did you to on the Bing It On challenge?