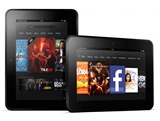 Yesterday Amazon joined the press event parade with some announcements of their own, specifically news of a new Kindle Fire, along with a new "Paperwhite" Kindle.  Just like the Nokia and Motorola events, details have been scarce on the new Kindles, but Ubergizmo was able to get some hands on time with the new Kindle Fire and as part of their review noted some interesting news about Bing:
Web Browser with Bing Search:Given the overloaded WiFi network during the event we cannot judge the perceived performance of the web browser properly, especially for page loading time. Page scrolling and pinch to zoom were pretty fast and fluid. Since Amazon claims to have a faster WiFi connection than any other tablet (31 Mbps download speed), I certainly want to check web page loading time under regular conditions.

The search box is powered by Bing and I did not check if it is possible to switch to another search engine, anyhow you can always go to the web to access another search engine.
Business Insider pointed out the change from Google's search engine on the previous Kindle Fire, but was unable to get Microsoft to confirm the change:
Previously, Google powered web searches on the Kindle Fire. So, it looks like Microsoft managed to win away this business.

We've reached out to Microsoft for confirmation, but the company declined to comment.
Update: Business Insider was able to get Microsoft to say something, but not much, about Bing on Kindle Fire HD:

We've reached out to Microsoft and it told us, "Bing will be the default search provider on the new Kindle Fire HD. No other details are available at this time."
The new "Kindle Fire HD" is running a forked version of Android Ice Cream Sandwich, and appears to be making at least some attempt to cut Google out of the mix, running their own Android Marketplace for apps, etc.
Will the few million Kindle Fire's sold make much of an impact on either Bing or Google?  Probably not, but as BI reports, "It appears as though Microsoft has landed a nice win for its search engine, Bing".