In a blog post today, Microsoft announced it is rolling out a set of changes to what up until now has been the Windows Phone Marketplace, renaming in to the "Windows Phone Store". This time, the changes are being rolled out beginning in Australia and New Zealand, and "in the weeks ahead gradually working our way around the world".
The Windows Phone website is changing, too, with a cleaner design, a new "News" tab, and the change from "Marketplace" (not to "Store", but to "Apps and Games", to ensure new customers "know where to find downloads for their phone").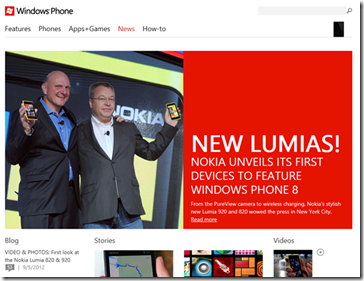 The changes to the Windows Phone Store include a better search box, now powered by Bing:
The new Search box makes it easier to:

Find apps even if you make spelling mistakes or typos—for example, "Facebok" instead of "Facebook".
Find similar apps more easily. For example, type "guitar" and you'll see relevant apps even if they don't have "guitar" in the title.
Finds apps in same genre. Type "health" to see apps related to dieting, exercise, and more.
… "smarter" app lists, including "Top Free" and "Top Paid" lists, a more frequently updated "New and Rising" list that includes fast rising apps, and a Best Rated list. "Racier" (mature content) apps, while still in the Store, will be a little less visible.
These changes reflect what is slowly appearing as a new naming strategy for both Windows and Windows Phone apps, which now share the same logo and similar naming:

Earlier today, Mary Jo Foley was able to get Soma Somasegar to "clarify" Microsoft's naming policy for Windows 8 apps, which are apparently now called "Windows Store" apps, with the combination of Windows Store plus Windows Phone apps now known as "modern applications", or as Soma told Mary Jo:
Modern apps" is a sweeping term that mean apps that work on connected devices and make use of continuous services
The names "Metro Style apps" and "Windows 8 Style apps" are apparently no longer in use. We're not sure that we're any less confused than ever, but here's to hoping that Microsoft has finally settled on a naming strategy and are sticking with it.
Are you seeing a new Windows Phone Website, or a new Windows Phone Store on your phone?