We first told you about a Recycle Bin feature coming for SkyDrive back in May, and then confirmed it via poking around in the source code for SkyDrive.com in August. Now today, a blog post on the Inside SkyDrive blog has announced that the feature has been released, although it may take "up to 24 hours" to make it's way to you (we don't have the feature here just yet).
Working just about how you'd expect it to, deleting a file on SkyDrive.com now just deletes, without a cumbersome "Permanently Delete?" dialog. Instead, the file is deleted, but you're able to "Undo" the deletion, or recover the file later from the Recycle Bin, which appears in the bottom left corner of SkyDrive: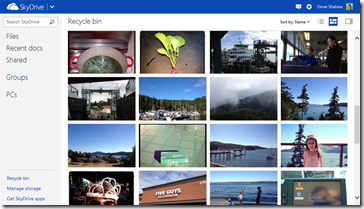 The Recycle Bin feature will be available from SkyDrive.com for now, but "over time", it is expected to come to other SkyDrive experiences, too. Items in your Recycle Bin won't be available forever, as Omar Shahine explains:
Items in the recycle bin do not count against your SkyDrive storage limit. We save all items you delete in the recycle bin for at least 3 days. If the content in your recycle bin gets large enough to exceed 10% of your storage limit (which will be pretty rare), we'll start to delete the oldest content (after it's been there 3 days), and will permanently remove items from the recycle bin after they have been there for 30 days (and not restored).
The blog post goes on to describe another new feature coming to SkyDrive, Excel Surveys. A top request of students using SkyDrive, the Excel Surveys, once they become available, will make it easy to create, share, and crunch the numbers on an Excel based survey: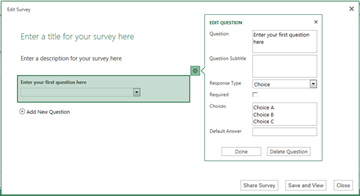 Maybe we should create a survey once this feature ships and ask what other SkyDrive features you're waiting for. A number of commenters on the Inside SkyDrive blog post are continuing to request "selective sync", how about you? Are you happy with SkyDrive as it is, or are you waiting for new features?