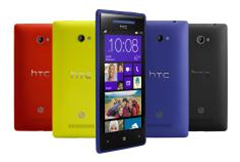 Today in New York, HTC took the wraps off of their entries into the Windows Phone 8 sweepstakes, unveiling the HTC 8x and its lower spec counterpart, the 8s.  Both devices will be available in November through more than 150 carriers in 50+ countries, including AT&T, Verizon, and T-Mobile in the US, Orange, O2 Telefonica, MTS, Three UK, T-Mobile, and Vodaphone in Europe, Vodaphone Australia, and more.
Key features of the high-end 8x include:
4.3″ touch screen with HD 720p (1280 x 720) resolution
Beats Audio™ with 3.5mm jack and speaker
2.1MP front-facing camera with an 88-degree wide angle lens and 8MP rear camera
with BSI sensor and f/2.0 lens
and the mid-range 8s offers:
4″ WVGA touch screen (800 x 480)
Beats Audio™ Integration
5MP camera with f/2.8 aperture, 35mm lens, autofocus, LED flash, HTC ImageChip™
and 720pHD video recording
Both devices, like their Nokia Lumia counterparts, come in a range of colors.  In fact, Nokia's head of marketing, Chris Weber, has been taking potshots at the HTC lineup already, telling The Verge that while HTC "may choose to tactically re-brand their products, Nokia is driving an industry-leading smartphone franchise", and tweeting:
[blackbirdpie url="https://twitter.com/CWeberatNokia/statuses/248449797558784001″]
Microsoft is still keeping the Windows Phone 8 OS tightly under wrap, as PC World explains in their "hands-on" review of the 8x:
the Windows Phone OS itself looks very much the same as you've seen elsewhere, since Microsoft keeps pretty close control over it. Microsoft still wants to keep some features under wraps, so we were only able to look at the home screen and the rather simple camera app
While it's been widely reported that WP8 was released to manufacturing (RTM) last week, Microsoft still hasn't announced even that, or given any details on where or when it plans to do so, aside from references to the phones being available in November.  However the Boy Genius Report said last week that it's hearing of an October 21st launch date on ATT for the Lumia 920, and yesterday WPCentral heard the same thing from separate sources.
So while we're at least seeing an impressive lineup of phones, and a renewed emphasis on Windows Phone by HTC, we still don't know what secrets Windows Phone 8 still holds, or anything specific about pricing or availability.
Do you have a favorite Windows Phone 8 device?  Has the HTC 8x swayed you away from the Lumia 920 or the Samsung ATIV S?  And more importantly, will this new lineup of phones be enough to sway consumers away from Android and the new iPhone 5?